Latin America might become Ukraine's war ally - MFA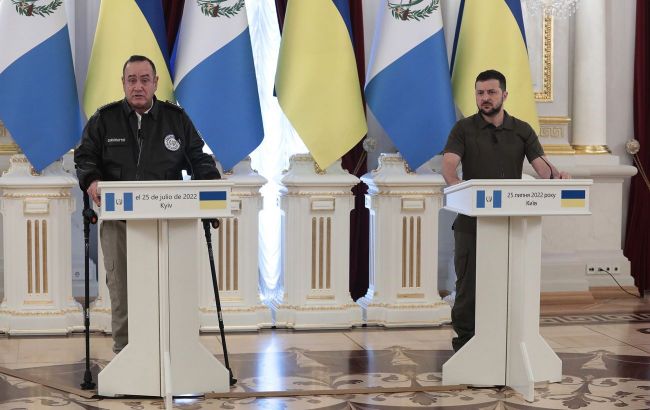 President of Guatemala Alejandro Giammattei Falla and President of Ukraine Volodymyr Zelenskyy (Getty Images)
Ukraine is actively developing its first-ever strategy concerning relations with Latin America. The country's Special Representative for Latin America at the Ministry of Foreign Affairs, Ruslan Spirin, shared the following with RBC-Ukraine.
According to Spirin, this marks the second similar document aimed at regions in the Global South, with the African strategy having been approved in 2022. The development of the Latin American strategy was initiated by the president at the end of the previous year and is now nearing completion.
"This will be a comprehensive document encompassing all areas and defining the goals of foreign policy for the coming years. We have an ambitious plan to expand our diplomatic resources. It requires funding and substantial preparatory work, but it is essential because we acknowledge the significant imbalance. Just as additional weapons are needed on the battlefield, we need additional soldiers – our diplomats – in these countries," said the Special Representative of the Ministry of Foreign Affairs.
To enhance diplomatic ties and convince the countries in the region to align with Ukraine, Kyiv is also considering hosting a summit between Ukraine and Latin America. President Zelenskyy mentioned this last February. Furthermore, in June, the Ukrainian president expressed his desire to visit Latin American countries to meet their leaders face-to-face.
However, Zelenskyy's visit is not likely to occur before Foreign Minister Kuleba's announced Latin American tour, as is customary in diplomacy to lay the groundwork for high-level meetings. The Ukrainian minister's tour is scheduled for the latter half of 2023, but according to MFA spokesperson Oleh Nikolenko, no concrete details have been finalized yet.
Latin American countries' stance on the war in Ukraine
Most Latin American countries have adopted a neutral position regarding Russia's full-scale war against Ukraine. The continent's major nations, including Colombia, Brazil, Mexico, and Argentina, have declined to supply weaponry to Ukrainian forces at the request of the United States.
Brazil, in particular, has been known for its ambiguous stance, with its president accusing Western countries of encouraging the war by providing arms to Ukraine, while maintaining cooperation with Russia.
Ukraine is now actively seeking the support of Latin American countries in promoting the peace formula, as emphasized by the Ukrainian Foreign Minister, Dmytro Kuleba, who believes that the initiative needs support from as many nations as possible.
Kyiv is persistently working towards gaining support from the Global South in its conflict with Russia.