Kherson region shelled by Russians on August 13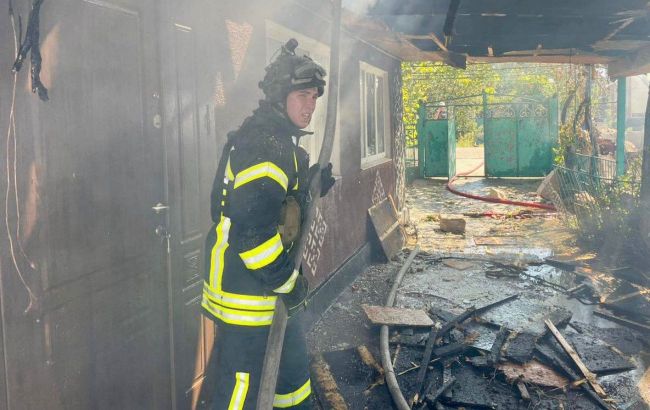 Russians shelled the Kherson region (photo: t.me/Klymenko_MVS).
Russian terrorists launched a series of morning attacks on populated areas within the Kherson region, resulting in significant casualties among civilians, according to the official Telegram channel of Ukraine's Minister of Internal Affairs, Ihor Klymenko.
"Following the hostile shelling, flames erupted within private residences, engulfing residential dwellings and a nearby garage structure," the minister reported.
According to Klymenko, emergency responders from the State Emergency Service swiftly extinguished all fires, even in the face of renewed bombardment by occupying forces.
He further disclosed that, as of 5:00 PM, a total of 20 individuals had been affected by Russia's military aggression in the Kherson region. Of this toll
7 killed (5 in Shyroka Balka, 2 in Stanislav),
13 wounded (3 in Kherson and 3 in Beryslav, 2 in Stanislav and 2 Somyshani, 1 in Komyshani, and one in Veletenske, Zolota Balka, and Novokayirakh.
A Day of Mourning for the fallen
August 14 has been declared a Day of Mourning for the fallen. As of now, seven killed and nine injuries have been confirmed.
"Today, the Kherson region trembled under dreadful news. Kherson, Veletenske, Zolota Balka, Stanislav, Komyshani, Shyroka Balka... Sofiia was just 23 days old, her little brother Artem - 12 years old. Today, Russia took their lives along with their father and mother. In Shyroka Balka, terrorists also claimed the life of a 67-year-old local resident," wrote Prokudin.
According to the Head of the Kherson Regional State Administration, in Stanislav, the shelling resulted in the tragic loss of Pastor Mykola Mykolayovych Tachyshvili from the Christian church, along with a fellow villager.