Jon Fosse: Living genius and original author awarded Nobel Prize in literature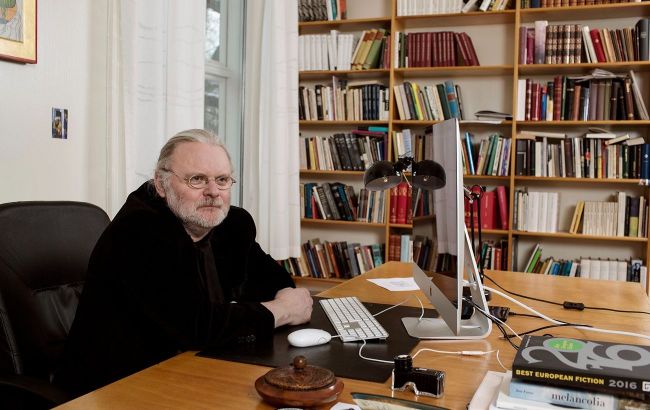 The Nobel Prize laureate Jon Fosse (Photo: twitter.com/NobelPrize)
This year, the Nobel Prize in Literature was awarded to the Norwegian writer Jon Fosse. He is a novelist, poet, and one of the most popular playwrights in the world, having received numerous international awards and recognized as one of the 100 living geniuses.
The material was prepared using material from the BBC, Wikipedia, Winje Agency, and NRK.
40 years in literature
Jon Fosse was born in 1959. His childhood was spent on a small farm in Strandebarm in the Norwegian region of Hardanger.
At the age of 7, he was involved in an accident and came close to death. This traumatic experience, according to the author himself, significantly influenced his creative path in the future.
At the age of 12, Fosse began writing his first poems. Another passion of his as a teenager was dancing, and he attended a group called Rocking Chair. He also played the violin from a young age and composed music.
Fosse completed high school with good grades and for a time seriously considered pursuing the prestigious profession of a doctor. However, he ultimately followed his calling and studied literature and philosophy at the University of Bergen.
Fosse wrote his first novel in 1983, titled Raudt, svart (Red, Black). But he considers his true literary debut to be the short story Han (He), published in a student newspaper in 1981.
Over the course of many years, he wrote novels, plays, poems, short stories, essays, and children's books. They have been translated into more than 50 languages. He also worked as a journalist and taught at the Academy of Writing in Hordaland, with one of his students being another famous Norwegian writer, Karl Ove Knausgård.
Fosse is a literary consultant and among his works is a retranslation of the Bible into Norwegian. He was involved in reviewing literature and translating many works, and he created his own new versions of several Norwegian plays.
Photo: Jon Fosse (twitter.com/ReginoMateo)
Among his most famous novels are Melancholia I and Melancholia II, which revolve around the real Norwegian artist Lars Hertervig. Another notable work is Morning and Evening, which explores the birth of a child and the day of their death decades later (translated into Ukrainian).
In 2023, Jon Fosse celebrates 40 years of his literary career, and in the spring, his latest novel Kvitleik (A Shining) was released. This brilliant work delves into the boundary between life and death.
Renowned playwright
Fosse is often called the "new Ibsen" and is considered the most prominent playwright after Henrik Ibsen, the founder of modernism in theater.
Initially skeptical of playwriting, Jon Fosse's attitude changed in 1992 with the release of his first play, Someone Is Going to Come. He later described it as the most significant discovery on his writing journey.
In 1994, his play And We'll Never Be Parted was performed at the National Theatre in Bergen.
During these years, Fosse wrote plays at a frenetic pace (20 works in 10 years), quickly becoming a prominent figure on the Norwegian theater scene.
His international breakthrough came in 1999 when French director Claude Régy staged Someone Is Going to Come in Nanterre near Paris. The following year, Berlin's Schaubühne Theater presented his play Name at the Salzburg Festival. These two productions helped pave the way for Fosse's dramaturgy on the international stage.
Today, Jon Fosse's plays are performed all over the world. They have been staged more than 1,000 times on theater stages in Europe, the USA, and Japan. He has written over 30 works for the theater, with some of the most famous ones being Name, Winter, A Summer's Day, Dream of Autumn, Variations on Death, Sleep, and I Am the Wind.
Distinctive authorial style
Fosse was awarded the Nobel Prize today "for his innovative plays and prose, which give voice to the unsayable."
The Swedish Academy described that Jon Fosse "blends a rootedness in the language and nature of his Norwegian background, with artistic techniques in the wake of modernism."
Photo: Jon Fosse - Nobel Laureate in Literature 2023 (twitter.com/NobelPrize)
Literary critics describe the author's style as minimalism, characterized by repetition, internal monologue, and a musical style that evokes memories.
Fosse writes in Neo-Norwegian (Nynorsk), using a relatively small number of words. His characters inhabit poetic worlds with a cold, austere inner and outer reality.
Similar to Icelandic sagas, his characters speak sparingly, and descriptions of the surroundings are concise. Characters begin sentences and do not finish them, dialogues flow and ebb like fruitless waves because the fear of revealing their inner feelings compels the characters to hold back. This is how the BBC described the author's work.
One of the 100 living geniuses
In 2007, The Telegraph included Jon Fosse in its list of 100 living geniuses, ranking him 83rd.
The writer is a knight of the Order of National Merit of France.
In 2011, Fosse was granted the use of Grotten, a residence owned by the Norwegian state and located on the grounds of the Royal Palace in central Oslo, in recognition of his contributions to Norwegian art and culture.
For his novel Septology, which Jon Fosse spent four years writing, he received numerous awards, including the Brage Prize and the Critics' Prize. Septology has been translated into over 20 languages and received critical acclaim worldwide. The English translation of the book was shortlisted for the International Booker Prize and the American National Book Award.