Israel Defense Forces strike numerous Hamas targets in Gaza Strip: New war day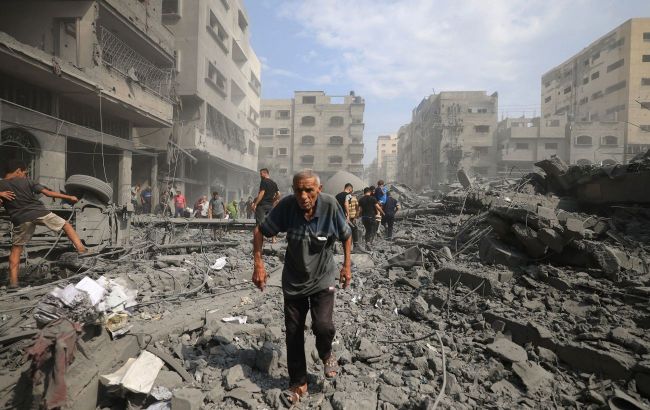 Israel Defense Forces carried out numerous strikes on Hamas targets in the Gaza Strip (Photo: Getty Images)
Israel has gained complete control of the southern border with the Gaza Strip, and there have been no new infiltrations by terrorists reported. However, dozens of Israeli fighter jets struck over 200 HAMAS targets overnight.
The following sources were used to prepare the material: the i24 TV and Israeli Defense Forces Telegram channels.
According to the i24 channel, citing a representative of the Israel Defense Forces (IDF), the army "100% controls the southern border with the Gaza Strip," No infiltrations have been reported in that area in the last day.
Nevertheless, a source in the i24 security service stated that terrorists are still hiding on Israeli territory, and new infiltrations are not ruled out.
At the same time, the IDF is conducting a large-scale attack on HAMAS positions in the Gaza Strip.
The Israel Defense Forces announced in a Telegram message that IDF fighter jets had struck numerous terrorist targets belonging to terrorist organizations in the Gaza Strip over the past few hours. It was mentioned that at night, Israeli fighter jets had targeted more than 200 locations in Rimal and Khan Yunis, districts and cities in the Gaza Strip used as HAMAS terrorist centers.
"Among the targets, IDF fighter jets struck the terrorist infrastructure of the Islamic Jihad in Khan Yunis, an arms depot of HAMAS located inside a mosque, and the operational terrorist infrastructure used by HAMAS militants," the army added.
In particular, fighter jets also targeted an operational command center of HAMAS inside a mosque, a command center used by HAMAS anti-tank missile division militants, and two other functional residential buildings.
Situation in Israel
On October 7, HAMAS militants from the Gaza Strip attacked the south and center of Israel, launching thousands of rockets and projectiles. On the morning of October 9, the IDF attacked militants and their infrastructure in the Gaza Strip. On October 10, a high-ranking HAMAS official, Abu Marzouk, expressed readiness for negotiations with Israel, stating that "all goals have been achieved." Meanwhile, leaders of the United States, the United Kingdom, Germany, France, and Italy released a joint statement expressing their "steadfast and united" support for Israel and condemning the actions of HAMAS.