Insufficietn number of F-16s Poland could transfer to Ukraine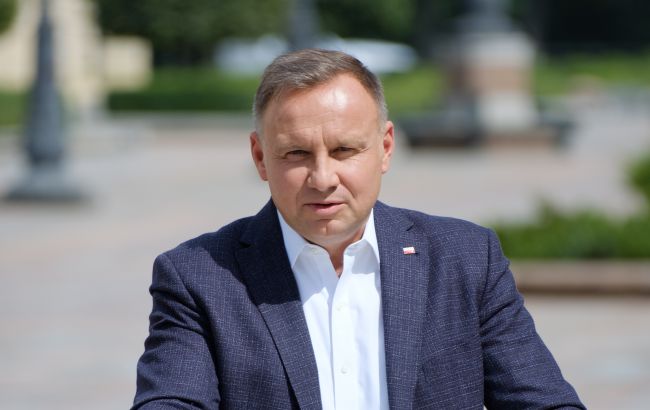 Photo: Polish President Andrzej Duda (Vitaliy Nosach, RBC-Ukraine)
Poland lacks a sufficient number of F-16 fighter jets to consider transferring them to Ukraine. Nonetheless, Warsaw remains supportive of the training of Ukrainian pilots. A report by RBC-Ukraine, citing Polskieradio24.
In an interview with Polskieradio24, President Duda highlighted the limitations Poland faces in providing F-16 aircraft to Ukraine due to their relatively small fleet size. However, he expressed readiness to assist in the training process for Ukrainian pilots. President Duda confirmed discussing this matter with Prime Minister and Minister of National Defense Mariusz Blaszczak.
President Duda further elaborated that while the transfer of almost all MiG-29 aircraft to Ukraine is possible, Poland would need to exclude those already involved in NATO defense initiatives. He explained that certain MiG-29 jets adhere to NATO standards and play a crucial role in air policing missions, serving to protect NATO member states.
It is worth noting that President Duda had previously declared Poland's willingness to systematically transfer almost all their MiG-29s to Ukraine, except for those serving in NATO.
"We have some MiGs that already operate according to NATO standards and fulfill the Air Policing mission, and therefore serve to protect NATO countries," the Polish leader added.
He emphasized Poland's position as one of the leading countries providing substantial support to Ukraine. Poland has already supplied Ukraine with 14 MiG-29 aircraft, with a total of at least 22 such fighters currently in service in Warsaw.
The statement from President Duda underscores the limitations posed by Poland's F-16 fleet size, making it impractical to transfer these aircraft to Ukraine. However, Poland's commitment to assisting Ukraine through pilot training and the potential transfer of MiG-29s demonstrates their ongoing support for their neighbor's defense capabilities.
Read urgent and important news about Russia's war against Ukraine on RBC-Ukraine's Telegram channel.