"In Ukraine, there is no organized Russian minority," says Deputy Prime Minister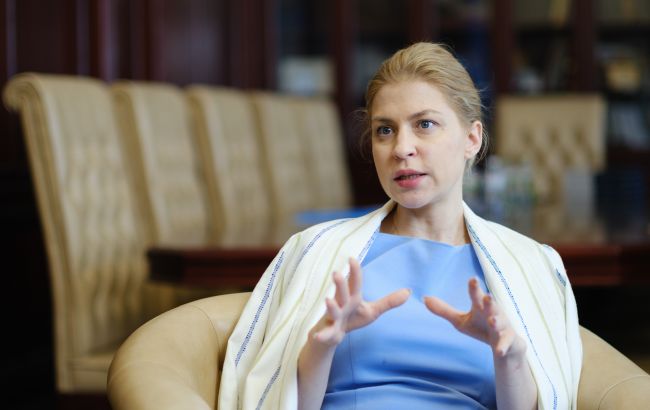 Photo: Deputy Prime Minister for European and Euro-Atlantic Integration of Ukraine Olha Stefanishyna (RBC Ukraine)
According to the Deputy Prime Minister for European and Euro-Atlantic Integration of Ukraine, Olha Stefanishyna, the rights of all national minorities are fully protected in Ukraine. However, there is no organized Russian minority in the country, she stated in an interview with RBC-Ukraine.
Recently, the Venice Commission released its findings on the "Law on National Minorities." Among its recommendations, it suggested reinstating a "privileged status" for the Russian language in Ukraine after the war with the Russian Federation concluded.
Additionally, it claimed that the Russian language allegedly requires more protection compared to hypothetical Romanian, Hungarian, or Polish languages.
Stefanishyna stated that the conclusions provide recommendations, indicating that Ukraine is not obliged to react or act in response to them.
According to her, Ukraine considers such a conclusion a significant reputational loss for the Venice Commission. She mentioned that the Ukrainian side had engaged in numerous discussions with experts from the Venice Commission.
Ukraine has expressed many reservations and provided explanations in the context of this issue. However, such a recommendation eventually appeared in the Venice Commission's conclusions.
Stefaniyshyna pointed out that Ukraine does not consider engaging in discussions concerning legal nuances feasible. She stated that the rights of all national minorities are fully ensured in the country.
Furthermore, she emphasized that unlike, for example, the Romanian minority, Ukraine does not have an organized Russian minority.
"And the Russian Federation, I'm not only referring to Ukraine, has never advocated for the rights of the Russian minority. They have always spoken about the 'Russian-speaking people that must be 'protected.' And essentially, the Venice Commission was guided by this Russian narrative," she said.
Stefaniyshyna noted that such recommendations constitute an unpleasant story. There is a particular nuance in that the Constitution stipulates the guarantee of the free development of Russian and other languages.
"Our Constitution was adopted in 1996, with this wording, when there were memorandums, agreements, and the Commonwealth of Independent States, six years after the dissolution of the Soviet Union, where the Russian language was a state language. This is the reality, obviously, in the conditions of war, we cannot change the Constitution and so on. All of this has been explained. This context had to be considered," she added.
Venice Commission published recommendations on the law on national minorities
In December 2022, the Verkhovna Rada (Ukraine's parliament) passed the Eurointegration law "On National Minorities of Ukraine."
It establishes the rights, freedoms, and obligations of national minorities.
On June 13, 2023, the Venice Commission released its conclusions on the law, recommending a review of several provisions. These include issues related to the use of languages of national minorities, publishing books, and the right to conduct events in the languages of national minorities without the obligation to provide Ukrainian translations, among others.