Ice broken: Evolution of Germany's stance on weapons for Ukraine and future outlook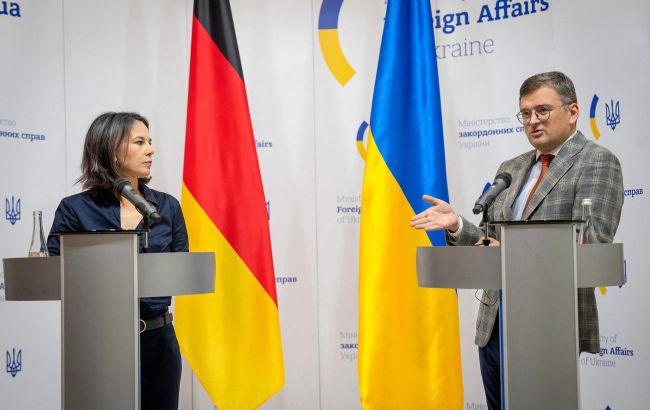 The meeting of Annalena Baerbock in Kyiv with Foreign Minister Dmytro Kuleba (Photo: Getty Images)
The head of the German Ministry of Foreign Affairs, Annalena Baerbock, has arrived in Kyiv for another visit. On the agenda: weapons, Ukraine's EU accession, and continued support for Kyiv by Berlin. However, relations have not always been so good. Just a year ago, Germany categorically refused to provide tanks to Ukraine.
Find out the path these two countries have taken and what to expect next in RBC-Ukraine material.
Aid, EU accession, and rapid reforms: What German politicians said in Kyiv
This is the fourth visit for Annalena Baerbock, a representative of the German Green Party in the coalition government. She is well acquainted with our realities and the Ukrainian government. In January 2023, she visited Kharkiv - the easternmost point reached by German government officials in Ukraine.
Baerbock demonstrated her awareness of recent political changes, noting reforms in the judiciary and media legislation within minutes of her arrival.
According to her, the next goal is to combat oligarchy and corruption. To quote her more precisely, during the Ukraine Recovery Conference in London, Baerbock emphasized the necessity "to put an end to 30 years of nepotism and, we must clearly say, corruption." By the way, she has already promised to hold a similar meeting in Germany.
She also mentioned the children abducted by Russia, emphasizing that "these crimes are being solved," with the help of an indictment at the International Criminal Court.
"It should be noted that political and not only political but also other types of relations with Germany are currently very intensive. Recently, Germany has transferred a new batch of Leopard-1 tanks, ammunition for Gepard anti-aircraft systems, which protect Ukrainian ports on the Danube, and infrastructure from Russian missiles and Shaheds. There is also information about the transfer of 40 Marder armored infantry fighting vehicles," described the state of Ukrainian interaction with Germany in a comment to RBC-Ukraine, Viktor Savinok, Senior Analyst at the Western Institute in Poland.
Photo: German Finance Minister Christian Lindner - responsible for financial assistance to Ukraine (Getty Images)
Victor Savinok reminds that in August of this year, German Finance Minister Christian Lindner, who is also the leader of the Free Democratic Party of Germany (FDP), visited Ukraine for the first time.
"He is responsible for the financial aspect of the dialogue and made a crucial statement: Ukraine had planned financing from Germany until the end of this year. This applied to both military and humanitarian aid, including support for Ukrainian refugees in Germany," the analyst explained.
Regarding EU accession, the President of the European Council, Charles Michel, previously provided clear timelines: both the EU and candidate countries (including Ukraine) should be prepared for expansion by 2030. He described this as a "necessary geopolitical consequence of Russia's war."
Olivér Várhelyi, the European Commissioner for Enlargement, emphasized that in October 2023, the European Commission would present "significant proposals" regarding EU expansion. In fact, Annalena Baerbock has "no doubts" that Ukraine will join the EU and will be a "decisive factor" in strengthening the European market, especially in clean energy. This was discussed at the meeting of Foreign Ministers in Kyiv. Baerbock signed a memorandum for the construction of a wind power station around the Chernobyl Nuclear Power Plant.
The ongoing visit by Baerbock is an important signal of support for Ukraine, as the United Nations General Assembly session is just a few days away, emphasizes Victor Savinok. She discussed the topic of Kyiv's EU membership not only with Foreign Minister Dmytro Kuleba but also with President Volodymyr Zelenskyy. The head of state thanked Germany for the new package of military assistance and its leadership in strengthening Ukraine's air defense. They also discussed European integration and the protection of civilians and energy infrastructure, which is still a target of Russian aggression.
"In this context, it is worth mentioning Annalena Baerbock's interview with the Funke media group on September 7th. In it, she emphasized that the question of Ukraine's membership was not 'if' but exclusively 'when' it would happen. She also said that Ukraine's future lay not only within the EU but also in NATO," explained Victor Savinok.
History of refusals: How Germany was reluctant to provide weapons to Ukraine
However, even before the start of Russia's full-scale invasion of Ukraine, Germany's position, including that of Ms. Baerbock, was entirely different - Berlin outright refused to supply Ukraine with weapons. This was primarily explained by the agreement of the newly formed coalition, which explicitly prohibited the supply of weapons to crisis regions.
Berlin also believed that doing so would only further anger Moscow and make negotiations with it even more challenging. Baerbock also mentioned Germany's historical responsibility not to provide weapons after the attack on the USSR in 1941. Just as then and now, it can be very difficult for Germans to imagine their weapons being used to kill Russians again.
However, all this rhetoric is somewhat untrue regarding both the world and our state. According to the Stockholm International Peace Research Institute (SIPRI), Germany is one of the leading arms-exporting countries. In reality, Ukraine has already received German weaponry - 71 sales were agreed upon in 2020-2021, amounting to 5.2 million euros. However, at that time, it did not include heavy weaponry like tanks. They supplied small arms, underwater, and communication equipment.
Photo: According to information from German politicians themselves, Chancellor Scholz continues to block the swift transfer of weapons to Ukraine.
As for tanks, initially, there was strong resistance in Germany as well. Chancellor Olaf Scholz, in particular, repeatedly stated that Germany would not unilaterally transfer Leopards. This was to prevent a direct confrontation between Russia and NATO.
Even signals from Washington, where by the summer of 2022, they were essentially not opposed to advancing arms deliveries, did not influence Berlin's position. NATO Secretary-General Jens Stoltenberg also conveyed such signals. At that time, according to German media reports, Germany could have transferred up to 110 Leopard tanks to Ukraine from its stocks and training centers.
Among the main voices against in 2022 was the head of the Bundestag Defense Committee, Marie-Agnes Strack-Zimmermann. However, on July 22 of that year, even she recognized the need for weapons to be "delivered directly to Ukraine."
Previous "circular exchange" (where EU countries near Ukraine's borders would give her older equipment and, in return, receive newer equipment from the Alliance) came under criticism from other members of the German parliament. The situation was further complicated by the demands of these countries. For example, Poland. Warsaw wanted to receive the latest Leopard 2 tanks instead of the hundreds of T-72s sent to Ukraine. This sparked a serious and complex dispute between the two capitals.
Photo: Instead of the handed-over Soviet tanks, Poland wanted Leopard 2A6 for itself (Getty Images)
Moreover, according to a statement of a tank expert, retired officer Mykola Salamakha, to DW, even though about ten brigades were formed from scratch, in order to effectively replace losses on the battlefield, Ukraine needs at least 500 tanks (as of the summer of 2022). Even if all Soviet tanks from all over Europe were gathered, it would be enough for at most half a year, he explained.
And the main problem won't even be training the crews - that can be managed with a month of intensive training. But retraining the support personnel and repair teams - now that may take much more time.
Breaking Germany's ice: How Berlin agreed to transfer tanks
It's worth noting that in addition to tanks, Germany transferred several different types of weaponry: armored vehicles M113 (jointly with Denmark), Marder, PzH2000 (Panzerhaubitze), Biber, and Dingo. Subsequently, Ukraine's arsenal included anti-aircraft missile complexes Gepard and IRIS-T, the Mars-II multiple rocket launcher system, and the artillery detection system Cobra.
As of the fall of 2022, Ukraine had already been using 30 Gepard installations and 10 PzH2000. The latter is considered the most expensive and modern self-propelled artillery system in the world.
Interestingly, when Germany transferred IRIS-T anti-aircraft systems to Ukraine, the Bundeswehr didn't even have them in service yet. For instance, Bavaria's Prime Minister Markus Söder was demanding similar systems for Germany. But all of this was before agreeing to transfer the Leopards, which the German government resisted until the very end.