'I loved him deeper than I could comprehend': Matthew Perry's former fiancée emotionally reacts to actor's death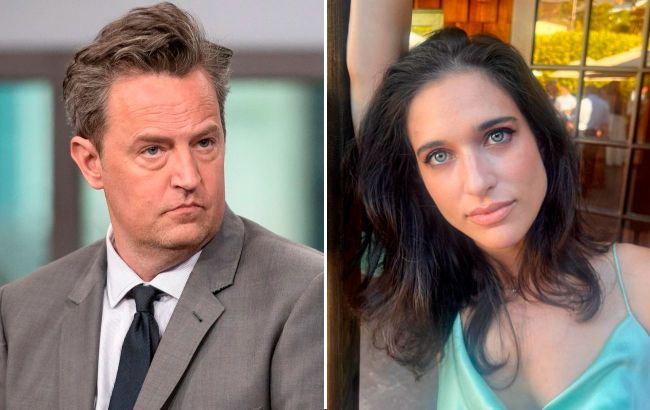 Former fiancée of Matthew Perry pays tribute to the actor (Collage: RBC-Ukraine)
Matthew Perry was engaged to his girlfriend Molly Hurwitz, who paid tribute to the star of the "Friends" series and recalled her romantic relationship with him.
Molly Hurwitz remembered her relationship with Matthew Perry
Former fiancee Molly Hurwitz paid tribute to the late actor, recalling the person who had a "profound impact" on her life. Molly Hurwitz, who was with Perry from 2018 to 2021, recalled the nature of their relationship and the role Matthew played in her life.
Hurwitz, a literary manager, to whom Perry proposed in November 2020, recalled watching "Friends" with him in anticipation of a special reunion episode of the cast in 2021.
Hurwitz states that Perry's reaction to his role as Chandler Bing in the show was very joyful, although he couldn't watch himself for a long time, knowing what he was going through then.
"Our respect and appreciation of humor is something that connected us. Being with him as he rediscovered his brilliance was magical," she noted.
Molly Hurwitz on her relationship with Matthew Perry (Photo: instagram.com/mollyhurwitz)
She also touches on the difficulties in their relationship, mentioning that she also knew this man from a completely different side.
"While I loved him deeper than I could comprehend, he was complicated, and he caused pain like I'd never known. No one in my adult life has had a more profound impact on me than Matthew Langford Perry. I have tremendous gratitude for that, for everything I learned from our relationship," she confessed.
She adds that she is at peace with the fact that his soul has finally found peace. It is worth noting that Matthew Perry and Molly Hurwitz called off their engagement in June 2021.
Matthew Perry (Photo: instagram.com/mattyperry4)
Matthew Perry, the legendary actor, passed away on October 28, 2023, but the investigation into his death is ongoing.
Previously, we wrote about how the "Friends" actors reacted to Matthew Perry's death.