How to prepare healthy homemade granola: Simple recipe from a renowned chef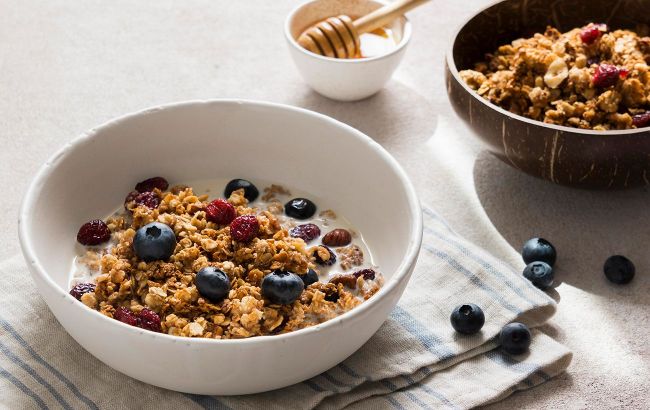 Recipe for homemade granola (photo: Freepik)
Granola is a mixture of dried flakes, your favorite nuts, and dried fruits. It can be an excellent choice for a healthy and quick breakfast. However, it's much better to make it yourself than to buy it in stores. This way, you can preserve maximum benefits.
How to prepare homemade granola, according to chef Volodymyr Yaroslavskyi.
What you will need
To prepare, you'll need:
400 grams of rolled oats
100 grams of honey
2 bananas
1/2 orange
75 grams of dried blackberries
75 grams of dried cranberries
75 grams of forest nuts
75 grams of walnuts
You can modify the ingredients according to your taste if desired.
How to prepare
Start by roughly chopping the nuts with a knife, leaving some pieces slightly whole. Do the same with the bananas. Now, mix this with the rolled oats.
In a separate container, combine a bit of orange juice, honey, and orange zest. Add this mixture to the oats and mix everything together.
Line a baking dish with parchment paper, spread the mixture evenly, and bake it in the oven for 30-40 minutes at 160 degrees Celsius, stirring periodically.
Add the dried fruits 10 minutes before it's done. For extra flavor, you can also add olive or coconut oil. The cooled granola should be dry and crunchy.
Now, pour kefir or yogurt into a bowl, top it with the granola, and your snack or breakfast is ready.