Germany to deploy best-equipped NATO army division in Europe in 2025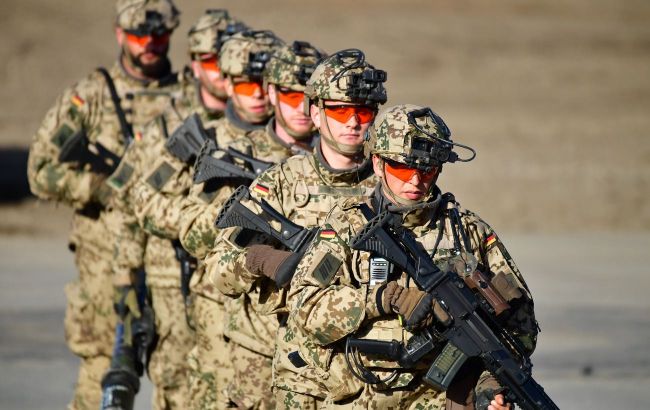 Germany will deploy the best-equipped division among NATO countries in Europe in 2025 (Photo: Getty Images)
Germany is confident that it will have the best-equipped army division among European NATO member countries in 2025, Lieutenant General Alfonso Maiz, the Chief of German Army Staff told Reuters.
Currently, Germany has no combat-ready divisions, which are military units comprising over 20,000 servicemen.
The country intends to deploy the first of three divisions by 2025 and the second one by 2027.
"I am very optimistic that we will get it (the division for 2025) done," Mais told Reuters in an interview published on Monday, adding the division would initially have 80%-90% of the required personnel and that the plans were agreed with NATO, the lieutenant general said.
The initial division will be staffed at 80-90% of the required personnel, and these plans have been coordinated with NATO, according to Alfonso.
Germany's first step will be to equip two mechanized brigades, followed by a lighter-armed medium brigade, which will be reinforced by a Dutch brigade totaling approximately 5,000 servicemen.
"This will be good enough," the lieutenant general said. "It will be sufficient, in any case, to contribute the best equipped division of all European NATO partners in 2025. At least, this is our joint goal with our Dutch partners."
Regarding the second German division, which is expected to be combat-ready in 2027, its full equipment largely depends on the availability of purchases from a special fund worth 100 billion euros.
Divisions are essential organizational structures in ground forces and are necessary to face adversaries of equal strength in conflict resolution. Western countries seek to revitalize and rearm their divisions after decades spent in smaller wars in Iraq and Afghanistan, during which they were neglected, dismantled, and deprived of weapons and ammunition.
Previously, Germany acquired 60 Chinook military helicopters from the American company Boeing, costing over 6 billion euros. The committee supported the allocation of only 8 billion euros for this purpose, which will also cover helicopter maintenance (700 million euros), national contracts (240 million euros), and infrastructure (750 million euros).