Genocide in Ukraine - Presidential Office condemns UN statement on lack of evidence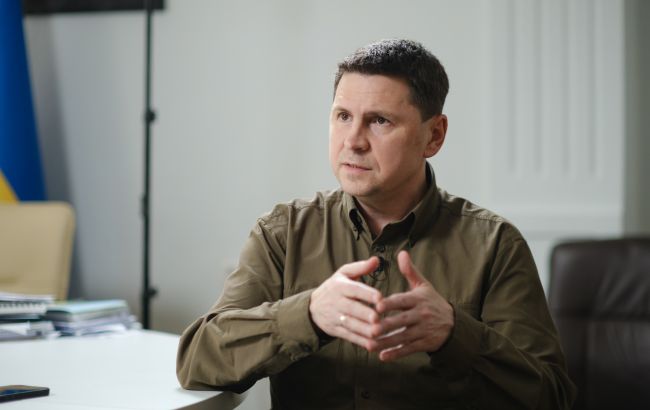 Mykhailo Podolyak, an Advisor to the Head of the Office of the President of Ukraine (Photo: RBC-Ukraine, Vitalii Nosach)
The Office of the President condemned the UN's statement regarding the alleged lack of sufficient evidence of genocide committed by Russian military forces in Ukraine, as referenced by the advisor to the Head of the Office of the President, Mykhailo Podolyak.
He noted that the UN demonstrates an endless masterclass in "political toothlessness and indirect encouragement of criminals."
"Absolutely, because the Russians came to kill us... kindly, en masse. Ukrainians exactly, but without premeditation. And the missiles are flying into the cities every night in a kindly manner. And the attempt to destroy the energy infrastructure in the winter so that people are killed by frost is completely accidental," the advisor wrote.
Podolyak continued by stating that according to the UN's logic, a full-scale war lasting over 560 days, during which hundreds of Ukrainian cities and villages were wiped off the face of the earth, falls within the acceptable category of "non-genocide."
"And the official calls to "kill a Ukrainian!" are without premeditation. And torture in filtration camps with compulsion to abandon Ukrainian identity and impose Russian identity is also with love. The Ministry of Love. Ah yes, the Russians are not acting like in Rwanda yet, they are not slaughtering people by the millions. If Ukrainians would voluntarily go out on the road, kneel down, humbly give their heads to Russian soldier to cut it off, en masse, for the record, then yes. Then it's about genocide," he stated.
The advisor to the Head of the Office of the President of Ukraine pointed out that, according to the UN, this would be considered a "righteous war," where they just cut, burn, and rape a little on an ethnic-state basis.
"And let them continue, right, Mr. #Møse? They have the right because the UN encourages it, right?" he added.
The UN's statement
Yesterday, the Chair of the Independent International Commission of Inquiry on Ukraine at the UN, Eric Møse, stated that the organization has not yet concluded that genocide is occurring in Ukraine.
According to him, the commission lacks sufficient evidence to meet the legal qualification under the Genocide Convention.
"There must be a 'specific intent' to destroy a particular group. And such destruction, according to the Convention, must be physical or biological. These are the strict criteria (for recognizing genocide) confirmed by judicial practice," Møse said.