Foreign Ministry criticizes weak G20 statement on Ukraine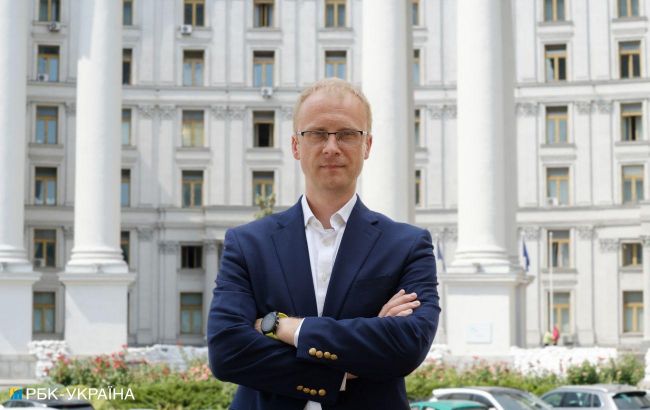 Spokesperson of the Ministry of Foreign Affairs of Ukraine, Oleg Nikolenko (Photo: RBC-Ukraine, Vitalii Nosach)
Participants of the G20 have adopted a final declaration. However, a part regarding Ukraine could have been closer to reality, according to the spokesperson of the Ministry of Foreign Affairs of Ukraine, Oleg Nikolenko.
"Ukraine is grateful to the partners who tried to include strong wording in the text. However, when it comes to the part about Russia's aggression against Ukraine, the G20 has nothing to be proud of," Nikolenko said.
He noted that it is evident that Ukraine's participation allowed the participants to understand the situation better. He emphasized that the principle of "nothing about Ukraine without Ukraine" remains as crucial as ever.
He also explained how the key elements of the text could be made more realistic.


Photo: part of the declaration corrected by Nikolenko (facebook.com/oleg.nikolenko)
According to the spokesperson, it would have been necessary to change the wording from "war in Ukraine" to "war against Ukraine" and to include a mention of Russia in part about adhering to the UN Charter and the territorial integrity of other countries and the inadmissibility of the use of nuclear weapons.
At the same time, regarding the statement that there were different views and assessments of the situation regarding the Ukrainian crisis in the G20, Nikolenko advised changing it to: "Members of the G20 unequivocally condemned Russia's aggressive war against Ukraine and called on Moscow to cease it immediately."
G20 meeting
Today, the summit of the twenty largest economies in the world starts in India. The purpose of the leaders' meeting will be to discuss important issues, including economic ones. This meeting will take place without Ukraine but with representatives from Russia.
The leaders of the G20 reached a consensus on a joint declaration at the summit. Ukraine was also mentioned in it.