Flooding in Libya killing over 2,000 people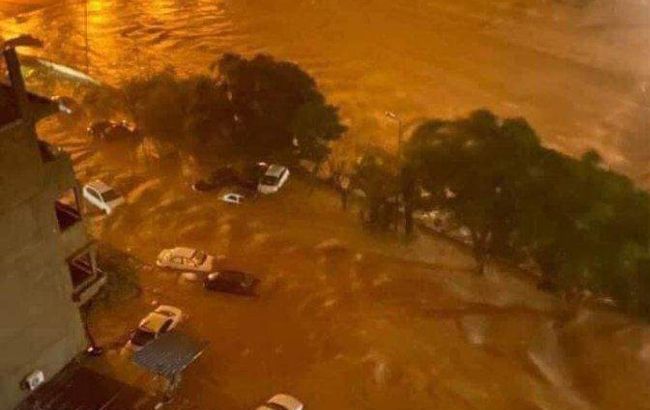 Due to floods in Libya, over 2,000 people have lost their lives (source: twitter.com/ScreenMix).
The authorities of Eastern Libya have reported over 2,000 casualties due to floods caused by the dam collapse near the city of Derna, according to NBC.
The country is being hit by the storm "Daniel," which has claimed the lives of at least 150 people. In addition to this, due to the severe weather, a dam near the city of Derna burst, leading to heavy floods in the region.
The head of the administration of Eastern Libya, Osama Hamad, has stated that there are at least 2,000 casualties, with another 5,000 to 6,000 considered missing.
"Sweeping whole neighborhoods with their residents into the sea," said Ahmed Mismari, a spokesperson for the Libyan National Army.
هناك أحياء كاملة في ليبيا قد اختفت pic.twitter.com/MSjfdCtlyi

— Screen Mix (@ScreenMix) September 11, 2023
رؤية الصور والمقاطع أمر صعب جدًا فما بالك بالأشخاص المتضررين نفسهم الآن، اللهم أحفظ ليبيا وأهلها من كل مكروه يارب وهوّن عليهم #إعصار_دانيال pic.twitter.com/5EB7iJh4eq

— عمرو (@bt3) September 11, 2023
#فيديو قوة تابعة للواء 166 مشاة تقوم بإنقاذ العالقين في منطقة الفتايح بمدينة درنة. #الساعة24 #ليبيا pic.twitter.com/XG8lCpfsle

— الساعة 24 (@alsaaa24) September 10, 2023
Floods in the world
At the beginning of August, heavy rains caused extensive flooding in Slovenia. Between 100 to 200 mm of precipitation fell. Areas in the center and north of the country were flooded. Rivers overflowed, landslides were recorded, entire towns were left without electricity, and at least 6 people lost their lives.
At the end of August, a massive flood occurred in Chile. According to the Chilean Agency for Emergency Situations, nearly 34,000 people were evacuated, and around 38,000 people were left without electricity. At least two deaths have been reported.
In September, two people also lost their lives due to floods in Türkiye. Water flooded streets and buildings in two districts of Istanbul. Due to the severe weather, 12 people were stranded near a hotel-bungalow area in the Sisli Valley. Türkey's Minister of the Interior noted that search and rescue teams were able to save 6 individuals.