Fighter jet crashes in Italy - 5-year-old child killed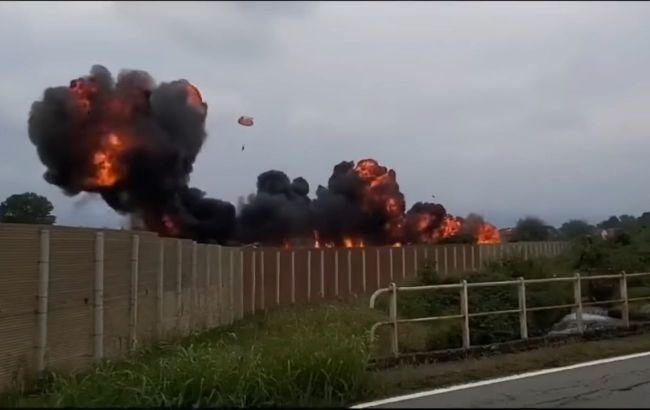 In Italy, a military fighter jet crashed (video screenshot)
In the Italian city of Turin, during takeoff, a military jet, the Aermacchi MB-339-PAN of the Italian Air Force, crashed and struck a car, resulting in the tragic death of a 5-year-old girl, according to La Stampa.
The crash occurred at around 15:30 Kyiv time. The aircraft lost altitude and then crashed into the ground, hitting several cars. The pilot managed to eject at the last moment.
One of the cars involved in the crash was carrying a family. The 5-year-old girl tragically lost her life, and her older 12-year-old brother suffered serious burns and was hospitalized. The parents of the children were also hospitalized.
According to the pilot, a possible cause of the crash could have been a bird strike in the aircraft's engine. An investigation into the incident is ongoing.
Aviation accidents worldwide
In July of this year, during efforts to extinguish massive forest fires on one of the largest Greek islands, Evia, in the Aegean Sea, an aircraft crashed.
A week earlier, an aviation accident occurred in Poland, where a Cessna aircraft crashed into a hangar with people inside. Five people lost their lives, and five others were injured.
Earlier, near Pon-de-Martel in the Swiss mountains, a tourist plane with passengers on board crashed. There were fatalities as a result of the aviation accident.
Additionally, on May 20th, an F-18 fighter jet crashed at the Saragossa airbase in Spain during a demonstration flight. The pilot managed to eject but suffered leg injuries and was hospitalized.