FIFA suspends president of Spanish Football Federation over kiss with champion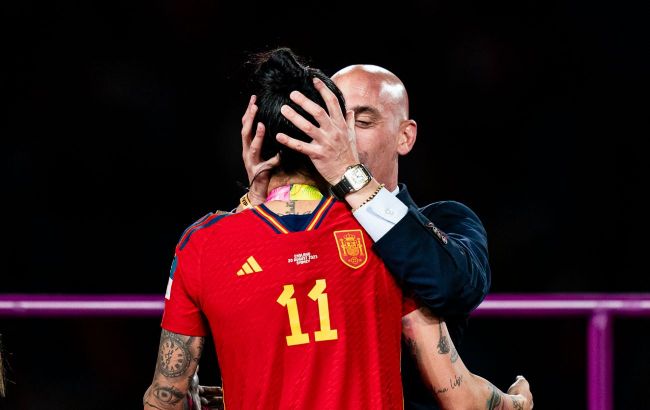 (photo: twitter.com/AttackingThird)
The kiss to the women's soccer world champion Jenni Hermoso, in front of millions of viewers, cost the president of the Spanish Football Federation Luis Rubiales his removal from office by FIFA. In addition, female coaches in Spain have resigned en masse, according to CNN.
The scandalous kiss of Rubiales with the footballer after the historic victory of the women's national team provoked a real crisis in Spanish football.
FIFA stated that they are suspending Rubiales from 'all football-related activities at national and international level' for 90 days while a disciplinary investigation is ongoing.
President of the Spanish Football Federation Luis Rubiales (photo: twitter.com)
Meanwhile, according to Rubiales, this kiss happened with mutual consent. He also stated that he refuses to resign despite the incident, despite the strong criticism from Jenny Hermoso herself, as well as the team members and the Spanish government.
Hermoso stated that the kiss was unwanted, and she and the entire team that won the World Cup refused to play as long as Rubiales remained president.
In her X (Twitter) account, the athlete wrote that she did not like the incident with the kiss, and she "felt vulnerable and the victim of an impulsive sexist action without any consent from my side."
The Royal Spanish Football Federation (RFEF) supported Rubiales, threatening legal action against Hermoso and others.
FIFA suspended the president of the Spanish Federation Luis Rubiales for 90 DAYS - all because he kissed a football player without her consent#Rubiales #FIFA #FIFAWomensWorldCup2023 #FIFAWomensWorldCup #FIFAWWC #RubialesOut pic.twitter.com/VPhm2aHNxj

— GringoBall (@gringo460287) August 26, 2023
FIFA also banned Rubiales and the Spanish Football Federation from contacting Hermoso to protect her "fundamental rights."
After FIFA's decision was announced, the RFEF appointed a temporary president and stated that Rubiales insists on his innocence.
"Rubiales has stated that he will defend himself before the relevant authorities and fully trusts FIFA's work, reiterating that in this way he will have the opportunity to start his defense, for the truth to prevail, and to show his complete innocence," the federation's statement said.
Earlier, it was reported that during the decisive match of the 2023 World Cup between the national teams of Spain and England, an unknown man ran onto the field to show solidarity with Ukraine, which is defending its sovereignty in the war with Russia.