F-16s transfer to Ukraine could take months, US official says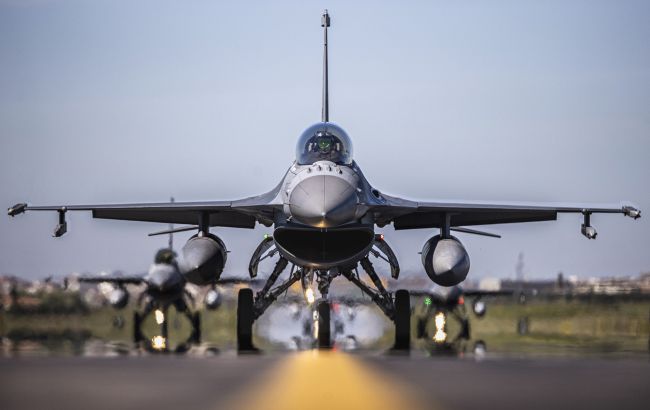 F-16 fighter jets (GettyImages)
It could take several months to transfer F-16 fighter jets to Ukraine, whether from the USA or from an allied operator, Military Times reports, referencing to a US State Department official.
The department's Principal Deputy Assistant Secretary for the Bureau of Political-Military Affairs Stan Brown said that while the US has not itself announced any transfers of F-16 fighter aircraft to Ukraine to date, it supports other allies' intent to deliver those aircraft to Kyiv.
In May, reports started coming in that the Netherlands was considering providing Ukraine with part of its F-16 fleet, and wanted to start pilot training as soon as possible.
However, as Brown said, the transfer of such aircraft to Ukraine has to be a "holistic" approach, to include training both pilots and maintainers. According to him, one of the first steps in a potential transfer of F-16 aircraft will be the license to train those airmen, before the license to transfer the aircraft even occurs.
Then it is necessary to identify the aircraft themselves - whether they will be delivered through a third-party transfer or some other mechanism. The State Department is already working on processing documents for transfer requests from third parties, coming from countries like the Netherlands, so that pilot training can begin. Brown declined to provide specific deadlines for the paperwork completion.
F-16 for Ukraine
About a month ago, allied countries stepped up discussions about transferring F-16s and other similar-class fighter aircraft to Ukraine. Denmark and the Netherlands have already voiced they are ready to take the lead on this issue.
However, Western partners said that the transfer of fighter jets will only be possible after training pilots. Meanwhile, NATO Secretary General Jens Stoltenberg said that it has already started.
Ukrainian Minister of Defense Oleksii Reznikov believes that Western aircraft supply may not be expected earlier than new year's eve.