Explosions hit Moscow: suspected drone attacks reported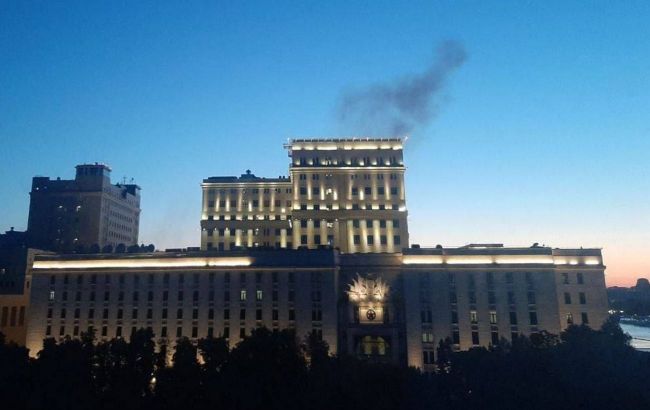 A series of explosions was heard in Moscow (video screenshot)
On July 24th, loud explosions were reported in various districts of Moscow, with claims that the city had come under attack by drones, according to Russian Telegram channels.
Videos posted online show the aftermath of the explosions in different parts of the Russian capital. Smoke and small fires were seen after the blasts in the business center on Likhachov Street, prompting authorities to block traffic in the area.
On Komsomolsky Avenue, windows were blown out in a building, and a section of the road was closed off by police. The affected building stood adjacent to a structure belonging to the Russian Ministry of Defence.
The explosions on Komsomolsky Avenue caused the roof of a two-story building to collapse. The first-floor windows of a nearby shop and the residential section on the fourth floor were also shattered. The windows in the adjacent building were damaged.
Reports suggest that a military unit in the city was targeted by drones.
Reaction of Russian authorities to Moscow explosions

Moscow's Mayor, Sergey Sobyanin, said that the city had supposedly suffered two drone strikes.
"Around 4 a.m. this morning, we recorded drone strikes on two non-residential buildings. Fortunately, there were no serious damages or casualties. All emergency services are on site," he said.
The Russian Ministry of Defence claimed that they had successfully thwarted an attempted attack on Moscow by two unmanned aerial vehicles earlier on July 24th.
"Through electronic warfare, the two UAVs were neutralized and crashed, no casualties were reported," the statement read.
Fires and explosions in Russia

Over the past few months, Russia has experienced a rising number of explosions and fires. For instance, on July 4th, a kamikaze drone purportedly attacked a military installation near Moscow.
Furthermore, several powerful explosions were heard in Moscow on July 4, which could have been air defense systems.
Additionally, on July 3, there was a massive fire at an industrial enterprise near Moscow. The area of the fire was about 400 square meters.