European traders store gas in Ukraine despite military risks - Reuters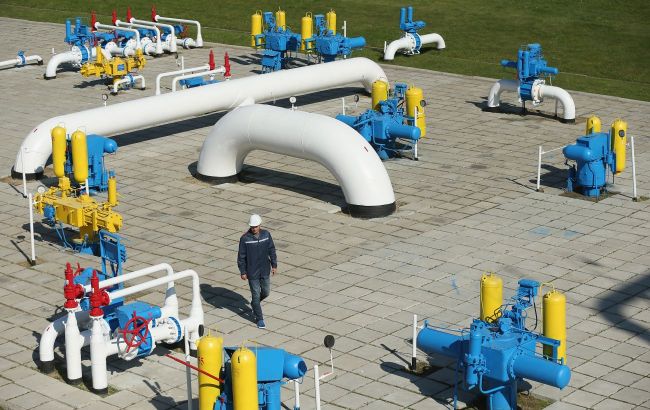 European traders store gas in Ukraine (Getty Images)
European gas traders have begun storing natural gas in Ukraine to take advantage of lower prices and available capacities, regardless of the risks associated with the ongoing military conflict, Reuters reports.
Following Russia's invasion of Ukraine in February 2023, the European Union sought to increase gas storage volumes to compensate the reduced Russian supply, particularly during peak winter demand months. The bloc is expected to reach a target of filling its storage facilities to 90% full by November 1. As of August 7, EU gas storage sites were filled to 87%.
Traders said there was commercial logic in storaging gas in Ukraine, as well as on EU soil, in order to take advantage of cheaper prices now versus for future delivery.
Gas for September delivery is priced at 30 euros per MWh, compared with forward prices for first quarter of 2024 at 49 euros, according to prices from the TTF Dutch gas futures market.
Confidence in Ukraine
Czech group EPH informed Reuters that its decision to utilize Ukrainian storage is also a sign of confidence in the country.
"EP Commodities transports natural gas to Ukraine and uses Ukrainian gas storage facilities," said Miroslav Hasko, CEO of EP Commodities.
"We believe in the reliability of the Ukraine's gas transport and storage systems, which proved themselves even in such an immensely difficult wartime situation," he added.
According to state-owned Ukrtransgas, part of Naftogaz Group, a positive trend in gas injection by foreign traders into Ukrainian storage facilities.
Naftotgaz said foreign customers could use more than 10 billion cubic metres (bcm) of storage of the country's around 30 bcm capacity, mostly in the country's west, which is far from the front lines.
Slovakia state-owned SPP, which supplies most of the Slovak market, in part with Russian gas, said it was looking at the possibility of using Ukrainian storage given Slovak storage was already 90% full.
"We consider gas storage in Ukraine as one of the interesting business opportunities that we are currently considering," SPP told Reuters.
Military risks
Other European traders said there are risks due to possible military strikes or questions over what happens to the network if Russia stops pumping the gas it still sends westward via Ukraine.
"Imagine a well-targeted missile hits a compressor station or some other infrastructure. You have to take that risk," said Martin Pich, head of trading at Czech firm MND.
He mentioned volumes at current spreads may not be large but could pick up if spot prices drop.
The Bruegel think tank said last month Ukraine could increase Europe's storage capacity by about 10%.
"Utilising the extra 100 TWh capacity available in Ukraine will provide a nice boost to Europe's winter outlook, and a welcome boost to Ukraine's income," Bruegel said.
Gas for storage in Ukraine can be purchased anywhere and pumped using real or virtual flows in pipelines from Hungary, Poland and Slovakia.
Nominations have risen for the pipeline that transports Russian gas from Ukraine to Slovakia at the Velke Kapusany border for flows into Ukraine - virtual reverse flows. Physical flows from Slovakia into Ukraine also started in August through the Budince point with daily volumes of around 17 mcm.
Largest underground storage facilities in Europe
Ukrainian underground gas storage facilities are the largest in Europe (over 31 billion cubic meters). They are located at depths ranging from 400 meters to 2 kilometers, making gas storage entirely safe.
Previously, the Cabinet of Ministers of Ukraine approved a list of underground structures where energy resources such as oil, gas, and other materials will be stored. This will allow for the establishment and maintenance of reliable storage facilities that are out of reach for enemies and other threats.