EU states support proposed €50 billion package for Ukraine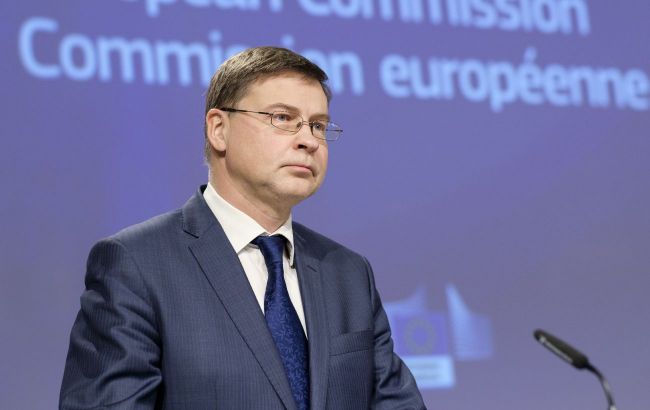 European Commission Vice President Valdis Dombrovskis (Getty Images)
Countries of the European Union are likely to support the proposal of the European Commission regarding a financing package of 50 billion euros for Ukraine, European Commission Vice President Valdis Dombrovskis told Bloomberg TV.
"We expect the support for the package. Of course there is going to be discussions with member states, this may bring some adjustments," he said on Thursday.
The money will be disbursed provided Ukraine fulfills reforms to improve the rule of law and address corruption. Leaders are due to decide whether to open negotiations by the end of the year on Ukraine's bid to join the EU.
Dombrovskis said that the EU is paying another €1.5 billion to Ukraine on Thursday under the macro-financial assistance package "and now we are looking more at the medium term focus, that's where this 50 billion package comes in."
Dombrovskis said he expected support from other donors, adding that "we also need to work on the absorption capacity and capacity to use this money in Ukraine, how quickly it can be deployed." The reconstruction needs are huge, he said, but "there are obviously capacity limits on how much simultaneously can be reconstructed."
According to the EU's interim report published on Wednesday, while some progress has been made in areas including judicial reform, Kyiv needs to boost efforts in fighting graft and money laundering.
50 billion euros from the EU

The European Commission has proposed creating a new instrument for Ukraine within the European Union budget, which includes grants, loans, and guarantees to cover part of Ukraine's current expenditures and fund urgent reconstruction projects. It will provide continuous financial support until 2027 and cover 45% of Ukraine's budget deficit for this period.
In 2023, the EU will provide Ukraine with 18 billion euros of macro-financial assistance. 9 billion euros out of this amount have already been disbursed.