EU evaluates Zelenskyy's peace formula, aims for broader support, Josep Borrell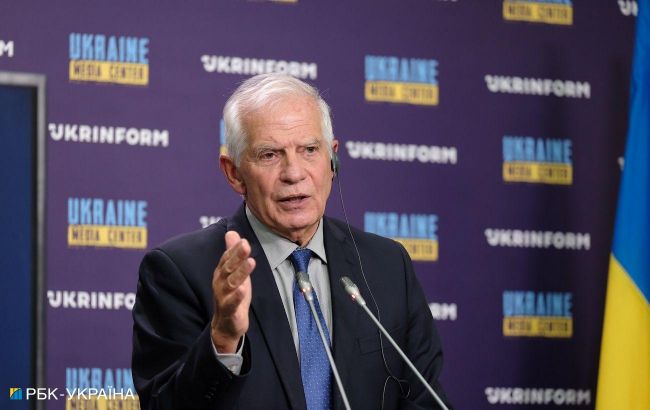 Josep Borrell, High Representative of the European Union for Foreign Affairs and Security Policy (Vitalii Nosach, RBC-Ukraine)
The EU foreign ministers will discuss President Volodymyr Zelenskyy's Ukrainian peace formula during an informal meeting in Kyiv, as stated by EU Representative Josep Borrell, according to Interfax-Ukraine.
During a joint press conference with Ukraine's Foreign Minister Dmytro Kuleba, Josep Borrell explained that participants of the EU Council meeting will also discuss preparations for an upcoming summit.
However, Borrell highlighted that this meeting in the Ukrainian capital is informal since it takes place outside of the EU, and it is also considered "high-level political debates that are not aimed at reaching specific conclusions and decisions."
The meeting serves as a "kind of brainstorming that we need to do among us and together with you in order to look at the situation due to the war against Ukraine, how the European Union is supporting Ukraine, and how we will continue doing that," he stated.
Borrell added, "We will study the Zelenskyy's Peace Formula in order to gather more support around the world and prepare for the summit."
Ukraine's peace formula
Recall that nearly a year ago, on October 11, 2022, President Volodymyr Zelenskyy introduced the G7 country leaders to a peace formula to counter the Russian threat.
It consists of 10 points and includes, among other things, defense support for Ukraine, protection of territorial integrity, and the punishment of Russian terrorists.
In early August, President Zelenskyy wanted Ukraine to host a World Summit in the fall. Furthermore, the aim is to organize subsequent negotiations at the head-of-state level.
EU Council in Kyiv
Today, October 2, the EU Foreign Affairs Council begins in Ukraine's capital. This meeting marks the first time officials representing ministries from all 27 member states will convene outside the EU.
The expected main topics on the agenda for the October 2 meeting include:
Ukraine's integration into the European Union;
Demonstrating support for the country;
Questions about military aid from Western countries;
Intensifying sanctions against Russia.