EU approaching 'critical juncture' in support for Ukraine - Lithuanian Foreign Minister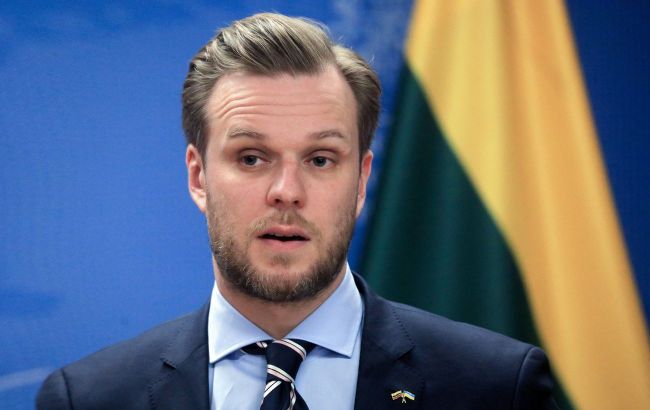 Lithuania's Minister of Foreign Affairs Gabrielius Landsbergis (Getty Images)
The European Union is approaching a "critical juncture" after political shifts in the United States and Slovakia have jeopardized Ukraine's support from the EU and NATO amid the Russian invasion, according to Lithuania's Minister of Foreign Affairs Gabrielius Landsbergis, CNN reports.
"Many messages that have been sent from Brussels or Washington or elsewhere, have the power to instill doubt, about whether we are serious," he said during a meeting of EU foreign ministers in Kyiv.
Landsbergis expressed hope that today's meeting can fix this, and can send a very clear, crystal clear message that Europe is with Ukraine until victory.
Foreign ministers of France, Ireland, and Romania also reiterated their support for Kyiv.
France's Minister of Foreign Affairs Catherine Colonna warned Russia not to count on the "fatigue" of European Union member states regarding their support of Ukraine.
Her Romanian counterpart Luminița Odobescu said the country will support Ukraine in exporting cereals, and highlighted the detrimental impact of the invasion on global food security.
Irish foreign minister Micheál Martin said he hoped EU officials would find a "sustainable approach to supporting Ukraine in the long term."
U.S. budget and elections in Slovakia
On September 30, the U.S. Congress approved a bipartisan measure that provides up to $16 billion in funding for disaster relief until November 17. However, it does not include $6 billion in aid for Ukraine.
Ukraine's Minister of Foreign Affairs, Dmytro Kuleba, stated that what happened in the U.S. was an incident rather than a systemic issue. Kuleba also suggested waiting until a coalition is formed in Slovakia, where the anti-Ukraine party of Robert Fico received the most votes in the September 30 elections.