Erdoğan calls for expansion of grain deal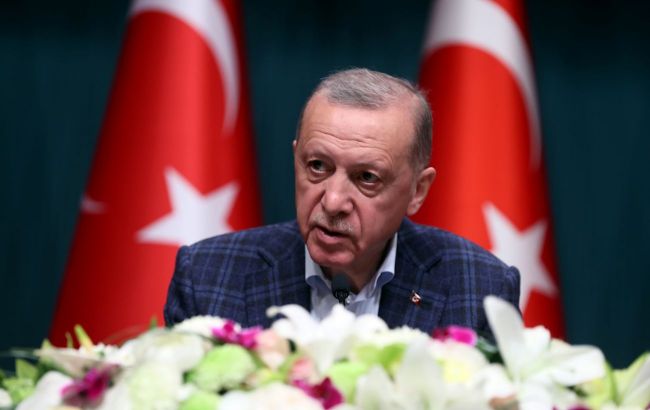 Turkish President Recep Tayyip Erdoğan (Photo: Getty Images)
According to Bloomberg, Turkish President Recep Tayyip Erdoğan has put forth a proposal to broaden the scope of a grain agreement. Erdoğan expressed his intention to revitalize the "expanded-scale" grain accord, urging Western nations to assist in transforming this initiative into a foundation for the cessation of hostilities between Russia and Ukraine.
"We had another chance to learn first-hand Russia's demands and expectations during a phone call with Russian President Vladimir Putin," Erdoğan stated.
Efforts to reinitiate the "expanded scope" initiative are ongoing, yet the decision hinges on whether "Western countries will fulfill their promises," he added, refraining from specifying which commitments had been breached.
"Unfortunately, in the previous period, the principle of loyalty wasn't observed. No diplomatic steps were taken to turn the positive atmosphere created by the Black Sea initiative into a cease-fire and then permanent peace," Erdoğan remarked.
Grain deal
Throughout the year-long operations that concluded in July, Russia repeatedly pressed for efforts to enhance its own food and fertilizer trade, including the restoration of the ammonia pipeline passing through Ukraine and the reconnection of its Rosselkhozbank to the SWIFT system.
When Russia exited the deal last month, the UN, which aided in crafting the initial deal alongside Turkey, declared that it had "achieved breakthroughs in some of the most complex areas of trade simplification" and collaborated with private banks and insurance companies to find solutions. Grain exports from Russia remain steady, and fertilizer sales are nearing full restoration, as stated by the UN.
Erdoğan and Putin engaged in their first conversation last week since Russia's departure from the grain deal, discussing the planned visit of the Russian leader to Turkey later this month.
Following the withdrawal from the agreement, Russia has repeatedly targeted Ukrainian ports and grain warehouses, leading to accusations from Ukraine and the West that it's employing food as a weapon of war, causing global grain prices to rise once again.
According to the National Bank of Ukraine, the halt of the "grain corridor" will result in a $2 billion reduction in Ukrainian agricultural exports in 2023. However, Ukraine will export all production intended for foreign markets through alternative routes.