Elections in Slovakia - Preliminary results, meaning for Ukraine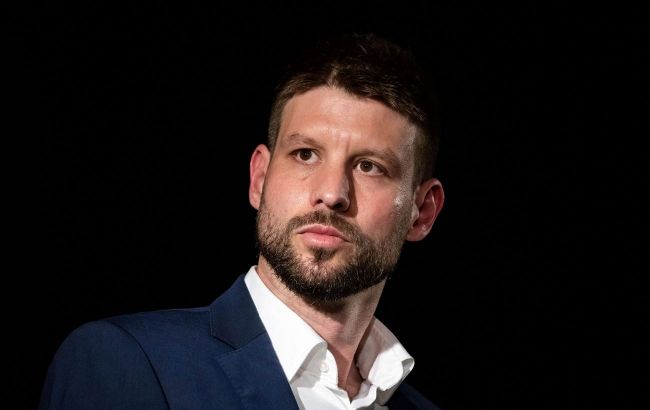 Progressive Slovakia, led by Michal Šimečka, wins the election (photo: Getty Images)
The elections in Slovakia have concluded, and local media are publishing the first results of exit polls. According to these results, the pro-European party Progressive Slovakia led by Michal Šimečka is in the lead.
During the preparation of this material, information from Slovak websites dennikn.sk, pravda.sk, and aktuality.sk, as well as the Facebook page of Dmytro Tuzhansky, the director of the Institute of Central European Strategies, was used.
Exit poll results
According to the exit poll conducted by the Focus agency for TV Markiza, the parties have received the following percentage of votes:
Progressive Slovakia (social liberalists) - 23.5%
SMER-SD (left-wing populists) - 21.9%
Hlas (social democrats) - 12.2%
According to the exit poll by Focus, "Progressive Slovakia" has two options for
"Ordinary People" (OĽaNO, a block of conservatives and right-wing Christians) - 8%

"Freedom and Solidarity" (SaS, liberals) - 6.4%

"Republic" (ultra-right nationalists) - 6%

"Christian Democratic Movement" (KDH) - 5.3%

"Slovak National Party" (SNS) - 4.3%

"Alliance" - 4.3%

"Democrats" (liberal conservatives) - 3%

"We Are Family" (Sme rodina, conservative nationalists) - 2.3%
The exit poll by RTVS also indicates a victory for "Progressive Slovakia." They are gaining 20%, SMER-SD - 19.1%, Hlas - over 11%.
"Ordinary People" (OĽaNO) have 9.5%, while SaS and KDH each have 6.4%. "Republic" has 6.1%, SNS - 5.4%, "Alliance" - 4.2%, "Democrats" - 3.4%, and "We Are Family" - 3.3%.
The threshold for entering the parliament is 5%.
How the future coalition might look
The first option is with the parties Hlas, SaS, and KDH. In this case, the coalition will have 85 seats, which is a comfortable majority in the 150-seat parliament.
The second option is with the same SaS and KDH, but adding "Ordinary People" (OĽaNO). Then the coalition will have a narrow majority with 77 seats.
Photo: Possible coalition scenarios (dennikn.sk)
The SMER-SD party of Robert Fico is unlikely to be able to secure a majority, even in an alliance with Hlas and the right-wing "Republic."
Dmytro Tuzhanskyi, the Director of the Institute of Central European Strategies, believes that the mobilization of the pro-Western electorate ensured the victory of "Progressive Slovakia," while right-wing radicals from the "Republic" failed despite an increase in their pre-election ratings.
In his opinion, it is unrealistic for Robert Fico's SMER-SD to form a coalition, even in the most extreme format with Hlas and the "Republic" because other potential allies of SMER-SD will not overcome the electoral threshold.
"The dilemma is who Progressive Slovakia will choose for the coalition - OĽaNO or SaS. It's difficult to imagine these two political forces in the same coalition after the conflict between their leaders buried the previous coalition and parliament," Tuzhanskyi noted.
Elections in Slovakia: why they matter for Ukraine
In most of the pre-election polls, the SMER-SD party led by Robert Fico, who served as prime minister from 2006-2010 and 2012-2018, was in the lead, which raised concerns on the Ukrainian side.
One of the reasons for concern was Fico's pro-Russian stance during his time as prime minister, where he called for the lifting of sanctions against Russia. Moreover, his views have become even more radical recently. During one of his rallies, he claimed that the war began in 2014 when "Ukrainian nationalists and fascists started killing Russian citizens" in Donbas.
In the event of Fico's victory, he promised to completely cut military support to Ukraine. This was alarming considering that Slovakia has been a good military partner and had transferred 13 MiG-29 fighter jets to Ukraine. There was also a threat that another EU member state, Slovakia, could join Hungary in potentially blocking anti-Russian decisions.
RBC-Ukraine reported that the most dangerous scenario for Ukraine would be a coalition between SMER and the right-wing "Republic" and the Slovak National Party (SNS), which are right-wing radicals. Another option, a softer one, would be a coalition with the party Hlas, led by former Prime Minister Peter Pellegrini, who advocates for continued support to Ukraine and sanctions against Russia.
Ideally, for Ukraine, a coalition centered around the pro-European "Progressive Slovakia" party led by Michal Simec would be favorable. If it comes to power, Ukraine can be confident in continued support. The preliminary election results in this regard are currently optimistic.