Dozens of foreign components used in Russian missiles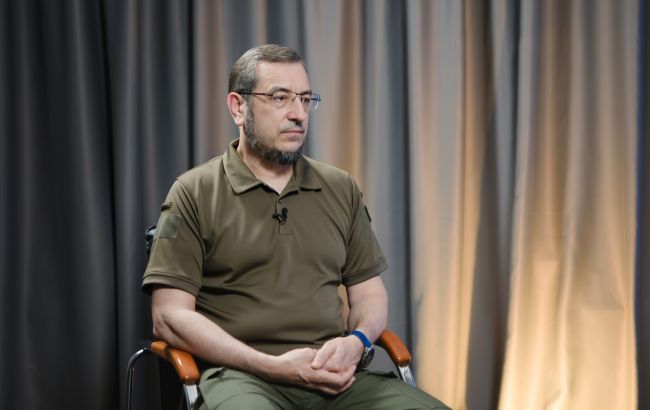 Deputy Chief of the Main Intelligence Directorate of the Ministry of Defense of Ukraine, Vadym Skibitsky (Vitaliy Nosach, RBC-Ukraine)
Most foreign components critical to the Russian Federation are found in two systems: the Iskander and the Kinzhal missiles, according to Deputy Chief of the Main Intelligence Directorate of the Ministry of Defense of Ukraine, Vadym Skibitsky.
"Approximately 50 electronic components used in these missiles are of foreign origin," Skibitsky said.
He emphasized that restricting the supply of these components to the territory of the Russian Federation would result in limited production of the Kinzhal and Iskander missiles.
"We are currently working on this matter, collaborating with our partners to prevent Russia from establishing, let alone increasing, the production of precision weaponry," Skibitsky said.
He revealed that Russia has already exhausted the components for Iskander and Kinzhal missiles that were available before the war. "We have information about how these components were smuggled into the territory of the Russian Federation," he said.
Supply of missile components to Russia

Skibitsky explained that many components enter through countries that have not joined the sanctions of the European Union or the United States. "I won't disclose the names at the moment, but the list of these countries is known," he said.
He further noted that many of these components are not even militarily or dually purpose, but rather civilian. "In the modern world, it is hard to control when such components are considered civilian. Nonetheless, we have this information, and I hope that together with our partners, we will manage to close all channels supplying such components to the territory of Russia," Skibitsky said.
It is not only about components but also other factors related to weapon manufacturing. "Modern machines, software, specific materials, and substances required by Russia for weapon production are all under close scrutiny. Our current task is to clearly identify what the Russian defense industry needs, which components Russia utilizes, and where it faces shortages to prevent the restoration and expansion of production within Russian territory," added the Deputy Chief of the Main Intelligence Directorate of the Ministry of Defense of Ukraine.
Foreign components in Russian missiles
Allied countries have already imposed a series of sanctions against Russia to prevent the supply of foreign components used in the creation of missiles and strike drones.
However, foreign technologies are still found in Russian missiles. For instance, during the strike on Kryvyi Rih, which resulted in the destruction of a high-rise building, one of the missiles contained approximately 50 foreign components.
According to the Office of the President, the European Union is already working on prohibiting the sale, supply, transfer, or export of certain technologies and goods to third countries, significantly complicating the process of circumventing sanctions.