Destruction of Kakhovka dam: consequences for nearby nuclear plant and Crimea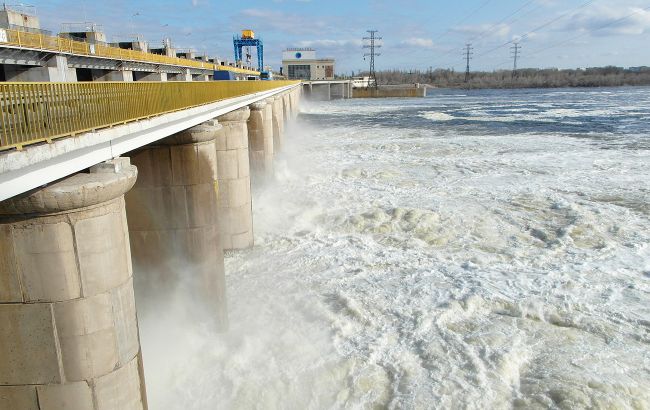 Nova Kakhovka hydroelectric power plant dam (wikimedia org)
Natalia Humeniuk, Head of the United Coordination Press Center of Security and Defense Forces of the South of Ukraine, and National Nuclear Energy Generating Company "Energoatom" stated that the destruction of the Kakhovka hydroelectric power plant (HPP) dam will surely impact the functioning of the Zaporizhzhia nuclear power (NPP) plant and the annexed Crimean peninsula, which is already experiencing lack of water.
Impact on Zaporizhzhia NPP
According to "Energoatom", the destruction of the Kakhovka dam may have negative consequences for Zaporizhzhia NPP, but the situation is under control.
"As a result of the breach, the water level in the Kakhovka reservoir is rapidly decreasing, which poses an additional threat to the temporarily occupied Zaporizhzhia NPP," the statement said.
How Zaporizhzhia NPP depends on Kakhovka HPP
The water from the Kakhovka reservoir is necessary for cooling turbine condensers and the safety systems of the NPP. Currently, the station's cooling pond is full. As of 8:00 AM (Kyiv time), the water level is 16.6 m, which is sufficient for the plant's needs.
"Currently, the situation at Zaporizhzhia NPP is under control, the Ukrainian staff is monitoring all indicators," "Energoatom" added.
Impact on Crimea
According to Natalia Humeniuk, the peninsula is very dependent on water supply.
"I wonder who they made things worse for. Moreover, I want to remind that a similar situation was already provoked by the occupiers when they partially flooded and raised the water level, flooding the Kherson region," she stated.
The Press Center representative reminded that then again the left bank of the Dnipro River suffered first, where the invaders laid mines, expecting the advance of the Armed Forces of Ukraine, where their trenches and dugouts were located and they already suffered personnel losses.
"Now the situation is completely the same, but the volume of water is greater and the flooding of the left bank will be larger, accordingly. This means that the distance to which we wanted to push the occupiers will now be dictated to them in this slightly unnatural way," Humeniuk added.
As reported, on June 6, the occupiers breached Kakhovka HPP. A special headquarters has already been established in the Kherson region to counteract the human-made disaster. The left bank of the Kherson region will take the first blow of it.
People are urged to evacuate within the next 5 hours, taking their passports and necessary things with them. It's possible to leave the dangerous area both by personal transport (if available) and by transport provided by the Kherson Regional Military Administration. President Volodymyr Zelenskyy has already responded to the emergency.