Designers release AI-created clothing collection: Photo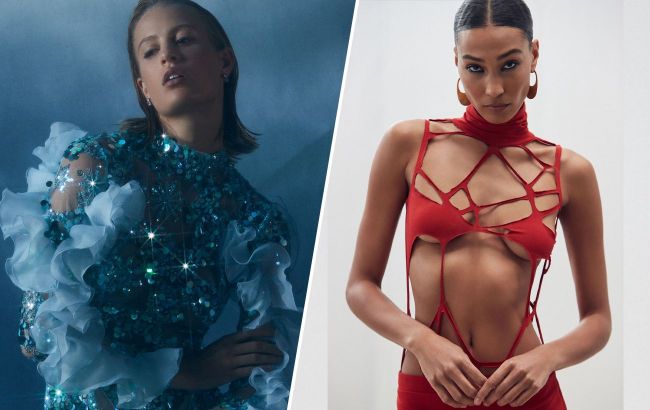 Designers have created new clothing collections using AI (Collage: RBC-Ukraine)
In the United States, designers have started producing clothing created using artificial intelligence. According to experts, these cutting-edge technologies will enable the development of collections even for people who lack specialized education, according to CNN.
What the collections created with AI look like
Portuguese designers José Sabral and Matilde Mariano became winners of a competition conducted by the American brand Revolve. Each of them created their collections using image generators with artificial intelligence called Midjourney and Stable Diffusion.
The first release includes 10-12 pieces from each of the winners. Some items are quite traditional, such as a red miniskirt or a pistachio-colored leather coat. However, other items have a more creative design, like a dark blue blouse with glitter and satin bolero-style sleeves.
Here is what clothing created using AI looks like (Photo: CNN)
"Technology is a big competitive edge for Revolve. Through AI, we're able to explore new emerging designers, brands, and trends that we are known for delivering in unique ways," said the company's co-founder, Michael Mente.
With the ability of AI technology to quickly create high-quality images, design is the field where it has the most significant impact. Brands like Collina Strada and Heliot Emil are already testing AI tools.
Experts believe that this technology can also allow people without a fashion background to create innovative designs.
Revolve is currently preparing for the upcoming Artificial Intelligence Fashion Week, which will take place in two stages: the first from November 16 to 19, alongside the PhotoVogue festival in Milan, and the second from November 30 to December 1 in New York.
Here is what clothing created using AI looks like (Photo: CNN)