Czechia to transfer batch of Mi-24V helicopters to Ukraine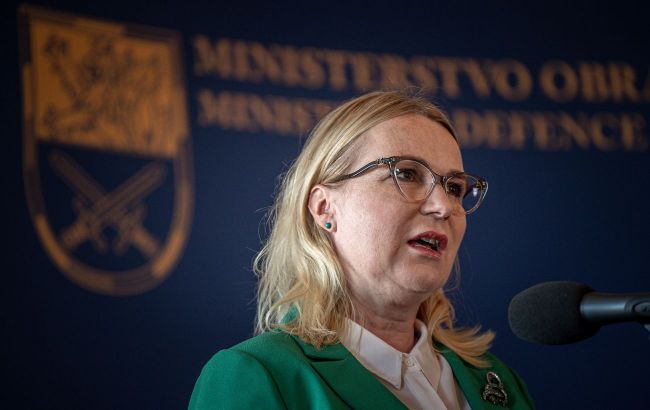 Minister of Defense of Czechia, Jana Černochová (Photo: Getty Images)
Czechia is receiving new helicopters from the United States, while old Mi-24V helicopters are being decommissioned and planned to be transferred to Ukraine, according to the Minister of Defense of Czechia, Jana Černochová, cited by ČT24.
According to her statements, the Mi-24V/35 helicopters performed their tasks excellently, even though they served longer than expected. Czechia will receive UH-1Y Venom and AH-1Z Viper helicopter types from the USA.
"Even if we symbolically bid farewell to them today, their story is definitely not over. We will certainly find applications for these helicopters. That's all I will say on this matter, as I don't comment on supplies to Ukraine as a matter of principle," the Minister of Defense said.
The Minister did not disclose the exact number of helicopters. She clarified that Czechia also needed to have spare parts for the "Mi" series helicopters. These parts were on sanction lists, making their procurement not straightforward.
What's said by Czech General Staff
Chief of the General Staff, Karel Řehka, stated that NATO and Czechia were responding to Russia's increasingly aggressive and less predictable behavior. He mentioned that the military should emphasize readiness and a high level of preparedness. Řehka added that Czechia needed to rid itself of dependency on Soviet-origin technologies as quickly as possible.
What's known about this helicopter
The Mi-24 is a Soviet/Russian attack helicopter developed by the Mil Design Bureau. Its unofficial nickname is the "Crocodile."
It became the first Soviet and second in the world (after the AH-1 "Cobra") specialized combat helicopter, as well as the first in the world's multi-series specialized combat helicopter with retractable landing gear. Serial production began in 1971 and continues to this day.
The Mi-24 has numerous modifications and has been exported to many countries around the world. As of 2021, it is the second most widely used attack helicopter in the world after the AH-64 Apache.
Mi-24 in the Ukrainian War It was previously reported that Ukrainian military integrated the American M261 launcher onto the Soviet Mi-24 helicopter, allowing the use of unguided Hydra 70 rockets.
Additionally, Poland transferred a dozen Mi-24 combat helicopters to Ukraine to aid in the fight against Russian aggression.