'Crimean bridge is legitimate target for Ukrainian troops, it's simply 'excessive'' - Ukrainian Intelligence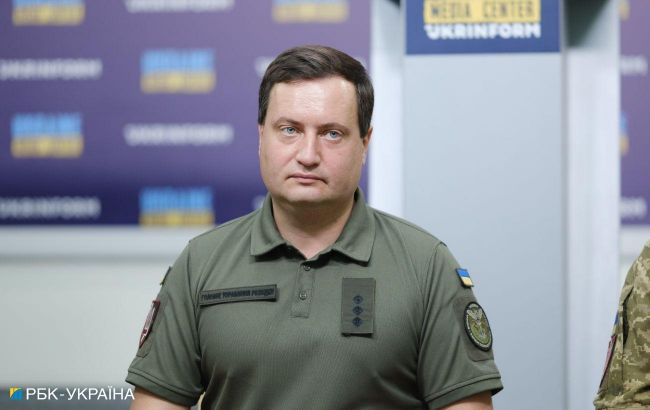 Andrii Yusov, a representative of the Defense Intelligence of Ukraine (Photo: RBC-Ukraine, Vitalii Nosach)
The Crimean Bridge remains a legitimate military target for the Armed Forces of Ukraine. It is simply "excessive" and should be destroyed, the representative of the Defense Intelligence of Ukraine, Andrii Yusov stated in an interview with RBC-Ukraine.
"It's not a bridge; it's an illegal structure primarily used for military purposes to transfer enemy forces and assets to the temporarily occupied Ukrainian territory. Therefore, yes - unquestionably, it is a legitimate target for the Ukrainian Security and Defense Forces," Yusv noted.
When asked if the bridge would be destroyed, the representative of the Main Intelligence Directorate said that "it is simply unnecessary there."
"This is already a sacramental phrase of General Budanov, and it can only be repeated," he added.
Regarding all the enemy forces in the temporarily occupied territories of Kherson, Zaporizhzhia, and parts of the Donetsk regions, Yusov stated that not all supplies go exclusively through the Crimean Bridge.
"No, of course, everything cannot go through the bridge. It (the supply) is divided into separate zones. Mostly, supplies to the occupied territories in the south of Ukraine move through Crimea. The so-called overland corridor also exists. It is also used, but primarily, the supplies come from the occupied Crimea," explained the representative of the Main Intelligence Directorate.
Strikes on the Crimean Bridge
The illegally constructed Crimean Bridge, built by occupiers, has been targeted at least twice.
In October 2022, powerful explosions occurred on the bridge, causing significant damage. The head of the Security Service of Ukraine, Vasyl Maliuk, confirmed that it was an operation of his special service.
Additionally, in July 2023, there was another attack on the Crimean Bridge, destroying two spans. The head of the SSU, Maliuk, also confirmed the involvement of the special services in this attack and noted that it was organized using Sea Baby drones.