Counteroffensive underway: Ukrainian forces reclaim territories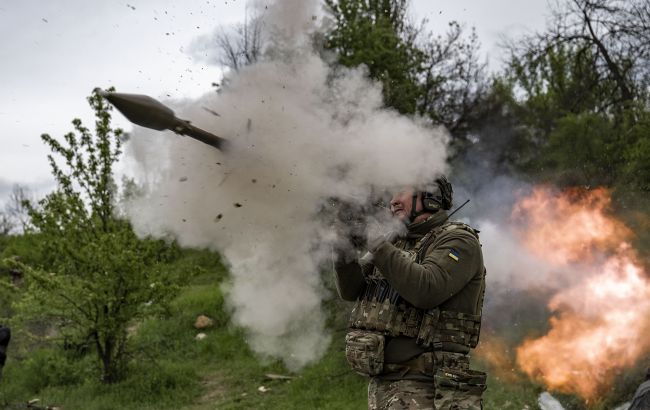 Ukraine's counteroffensive is underway (GettyImages)
Ukrainian forces continued counteroffensive operations in at least three directions and made further limited territorial gains on June 13. Ukrainian General Staff Spokesperson Andrii Kovalev said that Ukrainian forces have liberated over 100 square kilometers of territory since beginning counteroffensive operations.
Kharkiv and Luhansk regions
Russian troops did not carry out offensive actions on the Kupyansk-Svatove line. The Ukrainian General Staff said that the Ukrainian Armed Forces repelled Russian attacks on Bilohorivka, Rozdolivka, and Vesele.
The Ukrainian Armed Forces are successfully counter-attacking and liberating territories: ISW battle maps
Battles in the Donetsk region
Ukrainian troops continued to advance on the northern and southern flanks of Bakhmut, while Russian forces began to counterattack in the Bakhmut area on June 13.
Deputy Minister of Defense Hanna Maliar said that Ukrainian troops advanced 250 meters in the Berkhivsk Reservoir area and 200 meters towards Toretsk. Maliar added that fighting continues in the Yagidne area.
The Ukrainian General Staff said that Russian forces inflicted unsuccessful ground strikes towards Orikhovo-Vasylivka and Bila Hora. Sources in Russia claimed that Russian forces unsuccessfully counterattacked towards Bila Hora and Ivanivske, while Ukrainian forces reportedly were not successful in conducting assault operations in the Berkhivka area.
Russian sources also claimed that elements of the "Nevsky" volunteer detachment continue to operate on the northern flanks of Bakhmut. The Spokesperson of the Eastern Group of the Armed Forces of Ukraine, Colonel Serhii Cherevatyi, said that Russian forces continue to send additional elite airborne and infantry forces to Bakhmut.
Russian troops are redeploying additional forces from the Kherson region to reinforce the Avdiivka-Donetsk direction. The Ukrainian military said that Ukrainian forces repelled Russian attacks on Avdiivka and Marinka.
The spokesman for the Tavria direction Defense Forces, Valeriy Shershenev, said that the Russian military command is redeploying personnel from the Kherson region and announced the arrival of Chechen "Akhmat" units to the Avdiivka-Donetsk City line.
Russian forces did not carry out confirmed ground offensive operations in the Vuhledar area. A Russian source claims that units of the Russian 68th Army Corps are conducting artillery fire in the Vuhledar area.
The Ukrainian Armed Forces are successfully counter-attacking and liberating territories: ISW battle maps
Southern axis
On June 13, Russian forces carried out limited ground attacks near the administrative border of the Donetsk and Zaporizhzhia regions.
Valerii Shershen, the spokesperson for the Joint Press Center of Defense Forces in the Tavria region, said that Russian forces continued attempts to recapture Makarivka and carried out unsuccessful operations in Vremivka.
Ukrainian and some Russian sources said that as of June 13, Ukrainian forces maintained their positions in Makarivka. Some Russian propagandists claimed that Russian and Ukrainian troops continued fighting for the settlement overnight from June 12 to 13, and the area remains in a "grey zone".
Russian sources claimed that fighting continues near Staromayorske and Urozhaine. Russia's Ministry of Defense claimed that Russian forces repelled two Ukrainian attacks near Rivnopil. Maliar said that over the past day, Ukrainian forces advanced 500-1000 meters in the Berdyansk direction, freeing up to 3 square kilometers of territory.
On June 13, Ukrainian forces carried out ground attacks in the west of Zaporizhzhia region. Russian sources claimed that Ukrainian troops conducted offensive operations near Pyatykhatky and Dorozhyanka, as well as ongoing fighting south of Orikhiv and near Lobkove.
Russian sources claimed that volunteer formations are active in the Zaporizhzhia region, including the "Crimea", "Storm Ossetia", "Alania" and "Sarmat" battalions. Russians claimed that elements of 58th Combined Arms Army including the 291st Motorized Rifle Regiment and 72nd Motorized Rifle Regiment and the 429th Motorized Rifle Regiment continue to operate in Zaporizhzhia region.
The Ukrainian Armed Forces are successfully counterattacking and liberating territories: ISW battle maps
On the night of June 14, the Russians launched a missile attack on Odesa. As a result of the attack, 3 people died, 13 were injured.