Consequences of storm in Ukraine: Three dead, significant damage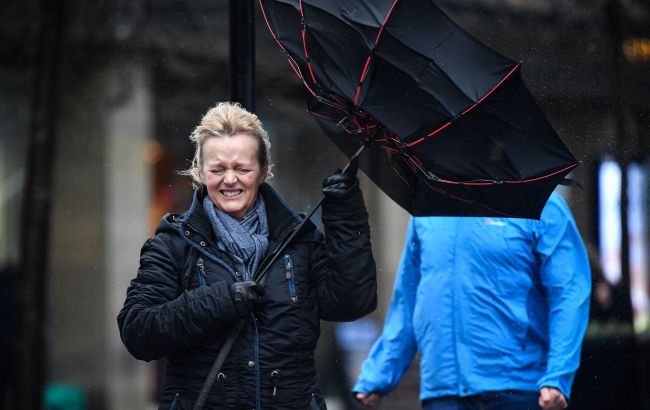 People died in the capital due to the storm (photo: Getty Images)
Today, on October 28, the capital was hit by a severe storm. As of now, it is known that 2 people have died, and 8 others were injured, according to the Kyiv City Military Administration and the State Emergency Service.
Today, a severe storm raged in the capital since morning. Powerful winds not only tore branches but uprooted trees.
The administration reported that as of 6:30 PM in the capital, the following damage was caused by rain and strong wind gusts:
Casualties - 2 men;
Injured - 8 individuals;
Damaged residential buildings - 2;
Roof damage to buildings - 17;
Kiosks damaged - 3;
Vehicles damaged - 10;
Banner falls due to wind gust - 1;
Hazardous structures (metal, fences, windows) - 8;
Fallen trees - 203;
Damaged trees - 130;
Fallen trees on the road - 25;
Fallen trees on the tram tracks - 3.
"The operational information is being updated and refined. The aftermath of the storm is being dealt with, and all necessary services are engaged," added the administration.
The situation in Ukraine
According to the State Emergency Service of Ukraine (SESU), as a result of the storm in Ukraine, a total of 3 people have died, and 10 have been injured.
Rescuers continue to eliminate the consequences of the storm and monitor the situation across the territory of Ukraine.
"SESU rescuers made 231 deployments across almost the entire territory of Ukraine during which 353 fallen trees were cut and removed. Additionally, 37 buildings were damaged in 14 regions and Kyiv. In total, 3 people died, and 10 were injured due to the storm," explained the service.
Additionally, due to adverse weather conditions, power has been cut off in 1,880 populated areas in 16 regions across the country. These areas include:
Kyiv,
Poltava,
Zhytomyr,
Chernihiv,
Sumy,
Khmelnytskyi,
Cherkasy,
Zaporizhzhia,
Dnipropetrovsk,
Kirovohrad,
Rivne,
Lviv,
Donetsk,
Kharkiv,
Ivano-Frankivsk,
Vinnytsia.
Ukrenergo brigades have been involved in the power supply restoration process.
Storm in Ukraine
Today, western, northern, and central regions of Ukraine were hit by a severe storm. Squally winds and rain caused a significant number of trees to fall in several regions. Due to the storm, power outages are affecting 14 regions, with more than 300,000 consumers without electricity.
Furthermore, in Kyiv, there have been casualties and injuries due to the stormy winds.
For more details on the consequences of today's severe weather, read the articke by RBC-Ukraine.