Christina Aguilera shows Ukrainian brand dresses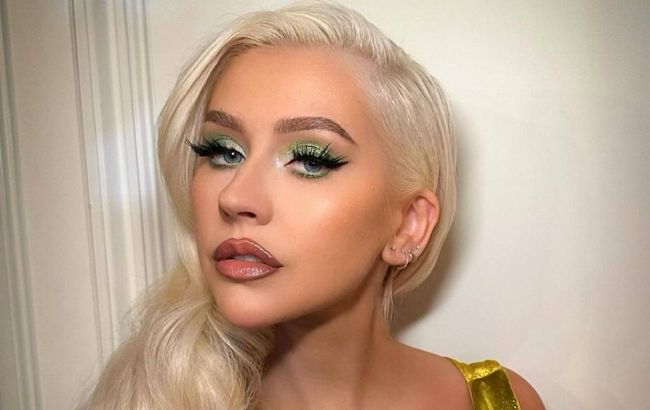 Christina Aguilera shows Ukrainian brand dresses (photo: instagram.com/xtina)
Hollywood stars frequently choose outfits from Ukrainian brands for their looks. Usually, these are dresses, accessories, and stuff for performances.
So did Christina Aguilera for presenting her New Year program. The celebrity shared her looks on Instagram.
Christina Aguilera chose dresses from a Ukrainian brand
The artist announced her New Year's Eve show in Las Vegas wearing very beautiful dresses made by the Ukrainian brand Lever Couture. The star posted the video on her Instagram page.
This is a video of the performances that will take place on 30 and 31 December. In the promo, Christina showed several looks, two of which were from Lever Couture.
Both dresses are blue, but they are completely different. The first one recalls images of winter, looking like something icy. When you see Aguilera in this dress, you think of the Snow Queen.
The second dress is also blue, but less fairytale-like. However, it's very shiny and covered with sparkles, glittering like snow in the lights.
Screenshots
These dresses helped Christina to create a real New Year's mood in the video because the colors, styles and design itself radiate an atmosphere of a winter fairy tale. And this is the main goal of the promo video - to give people a New Year's festive mood.
Aguilera promises her fans that her concerts will be special and more than just traditional. She will reach a new level of her art. The audience will be able to enjoy a mix of sophistication, pleasant music, and glamour.
It is worth adding that this Ukrainian brand is also chosen by Jennifer Lopez, Lady Gaga, Milla Jovovich, Heidi Klum, and other world celebrities.
But this is not surprising, because Lever Couture produces truly incredible dresses that are worthy of attention and suitable for gala evenings, presentations, ceremonies, and major concerts.