Carnivore diet: Man loses 40 kilograms and shares his review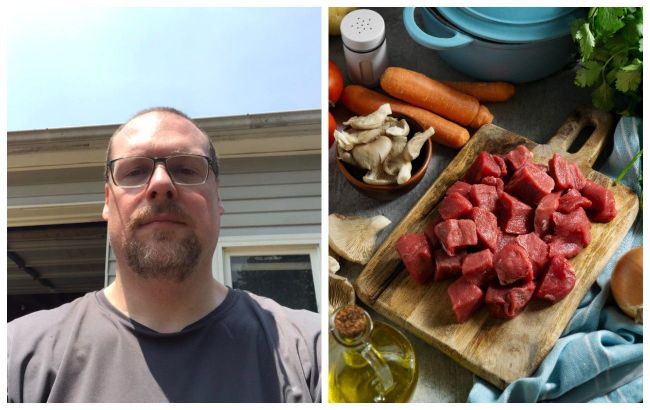 How to lose weight on a carnivore diet (collage: RBC-Ukraine)
Blogger Brian Nowicki shared that he managed to lose almost 40 kilograms in a year. What's more, he forgot about his chronic illnesses. According to the man, an unusual diet helped him.
RBK-Ukraine with reference to Newsweek tells about what the blogger ate and how he managed to lose weight.
Why the man decided to lose weight
In the spring of 2022, the blogger realized that he urgently needed to change something. The man suffered from blood pressure and heart problems, had excess weight, and felt unbearable pain in his legs and back.
In order to see how his three children grow up, the man decided to lose weight. At first, he followed the keto diet, but he didn't like the result. That's when the blogger learned about the carnivore diet.
The man before weight loss (photo: facebook.com/profile.php?id=100092997622946)
What the man eats
According to the blogger, he eliminated everything except meat and eggs from his diet. He does not count calories and claims to enjoy this type of diet.
"I do not eat vegetables or fruits, or any other carbs. I predominantly eat beef, with some eggs and bacon. Occasionally I will eat chicken wings or chicken thighs, as well as pork. I do not use any type of seed oils and cook my food with either bacon fat or butter," the blogger explained.
He described his typical daily diet, which usually includes around 900 grams of meat. Typically, he starts with a steak for breakfast, then has two beef patties without buns, adding eggs or bacon.
The man lost 40 kilograms (photo: facebook.com/profile.php?id=100092997622946)
The carnivore diet allegedly worked for the blogger. He claims to have lost nearly 40 kilograms and forgot about the health problems he had before. According to him, his blood pressure improved, allowing the doctor to significantly reduce the dosage of medications he was taking previously.
He also asserts that the unusual diet positively affected the levels of triglycerides and cholesterol in his blood. Supposedly, his liver and kidneys are functioning wonderfully.
The man after the diet (photo: facebook.com/profile.php?id=100092997622946)
It's important to note that individual experiences with diets may not be suitable for everyone. Each diet has its own nuances and potential pitfalls. If you have specific health concerns, it's crucial to consult with a healthcare professional or a licensed dietitian who can provide personalized advice and recommendations tailored to your health and lifestyle.
We've previously discussed how to eat pasta without gaining extra weight.