UK PM urges support for Ukraine's resistance while meeting Zelenskyy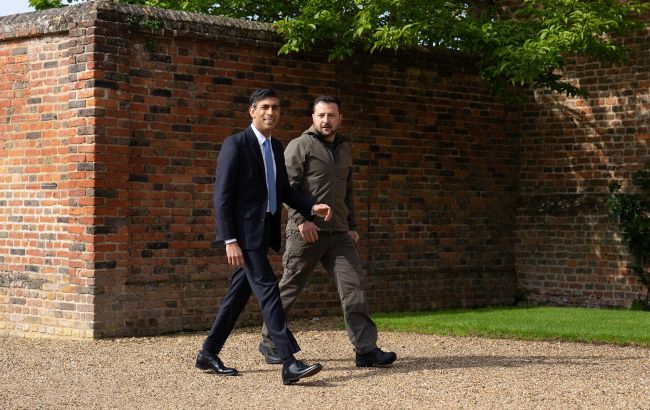 The UK PM Rishi Sunak with Ukraine's president Volodymyr Zelenskyy (Getty Images)
The UK Prime Minister Rishi Sunak said that today's meeting with the President of Ukraine Volodymyr Zelenskyy in London is a crucial moment in the resistance of Ukraine, and the country's allies "must not let Ukrainians down", as The Telegraph reports.
"This is a critical moment in Ukraine's resistance to a terrible war they did not choose or provoke. They need the ongoing support of the international community to defend against the barrage of merciless and aimless attacks that have been a daily reality for more than a year," Sunak said.
As he noted, allies must not let Ukraine down. "The frontlines of Putin's war of aggression may be in Ukraine, but the fault lines stretch all over the world. It is in all our interest to ensure Ukraine succeeds and Putin's barbarism is not rewarded," the PM said.
Sunak also said that the UK is standing firm in its support for Ukraine - providing tanks and training, ammunition, and armored vehicles. "I intend to voice this message of unity in all my upcoming meetings with global leaders," he added.
President of Ukraine Volodymyr Zelenskyy arrived in London today to hold talks with the UK PM Rishi Sunak. Before that, Zelenskyy visited Rome, Berlin, and Paris, gaining the support of Western European leaders.