Battle for Niger: Who's behind the coup and does a new war loom for Africa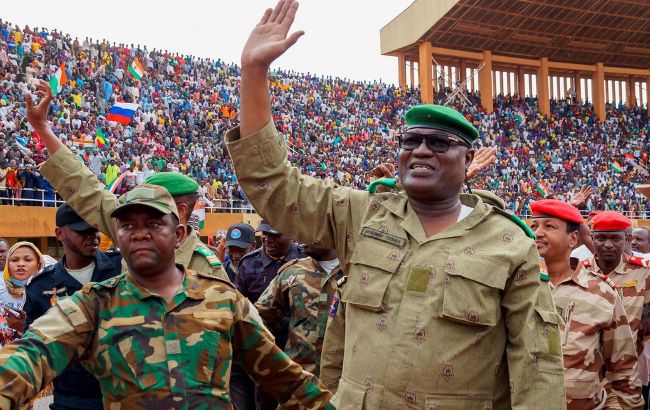 Photo: Niger coup leader Omar Tchiani could face intervention from neighboring countries (Getty Images)
The recent coup in Niger has taken an unexpected turn, deviating from the plans of the local junta. A neighboring ultimatum was presented just over a week ago, and it appears that the nation is on the brink of a new war.
As the situation unfolds a day prior to what could be a pivotal meeting among leaders of West Africa, details are outlined below by RBC-Ukraine.
The coup and its consequences
A bloodless coup took place in Niger two weeks ago. Led by the presidential guard, the junta detained democratically elected leader Mohamed Bazoum in his residence on July 26th. He remains under arrest up to now.
Two days later, the head of the presidential guard, Abdourahamane (Omar) Tchiani, declared himself the leader of the transitional government. The country's constitution has been suspended. The ousted president initially engaged in negotiations with global leaders and made social media posts, but eventually, all communication was disrupted.
The international community swiftly condemned the coup. France, the United States, the European and African Unions, as well as the Economic Community of West African States (ECOWAS), demand to restore Bazoum as the President.
Photo: Ousted President of Niger Mohamed Bazoum under house arrest (Getty Images)
European nations have cut aid by hundreds of millions of dollars. The U.S. has suspended $100 million in financial support and partially recalled embassy personnel. Notably, Washington refrains from officially labeling the events in Niger as a coup, as doing so would hinder security assistance, including funds to combat Islamist extremism.
Neighboring countries have issued threats of war - some aiming to thwart the coup, while others strive to ensure its success. On July 30th, the regional bloc ECOWAS issued an ultimatum: either Bazoum's power is reinstated and constitutional order is restored within the week, or the junta will face consequences, including potential intervention. In response, the insurgents have closed the airspace.
The deadline passed a few days ago, yet ECOWAS has not taken active measures. Aside from Niger, the bloc includes Gambia, Ghana, Guinea, Guinea-Bissau, Cape Verde, Côte d'Ivoire, Liberia, Senegal, Togo, Sierra Leone, as well as neighboring Benin, Mali, and Burkina Faso.
Remarkably, the latter two nations stand with the junta, stating that any intervention would be deemed a declaration of war against them.
The precise triggers for the power shift remain unknown. However, unlike previous upheavals in West Africa, events in Niger have become a red line for many, including Western states.
Prospects of intervention: Format and implications
ECOWAS shows unwavering intent toward the insurgents. This determination is fueled in part by the fact that this marks the seventh coup in West and Central Africa since 2020.
Defense Ministers of West African countries agreed on a potential military plan on August 4th, but unity within the community has been shaken following statements from Mali and Burkina Faso. However, an ECOWAS representative announced an emergency summit in Abuja, Nigeria, on August 10th, where a final decision is expected.
Western media, citing sources, reported that troops are positioned near Niger's borders, awaiting orders for invasion from the joint forces command.
Photo: ECOWAS leaders considering military intervention in Niger (ecowas.int)
As Reuters reports, the coup leader, Omar Tchiani, participated in an ECOWAS peacekeeping mission in Cote d'Ivoire in 2003, so he knows what intervention missions involve.
"If they don't go in, it will be a major problem of credibility. They have laid down a red line," said Djiby Sow, a senior researcher at the Institute for Security Studies in Dakar.
President of Nigeria Bola Tinubu instructed his government to prepare for various scenarios, including deploying military personnel. Senegal also stated it could send troops, yet other ECOWAS members are not as categorical.
One possible scenario involves a limited operation with specialized forces. In this case, peacekeepers would focus on key objectives, Bazoum's release, and the restoration of his government, according to Reuters.
However, given Niger's size and ethnic diversity, it remains unclear if various groups would support such an approach. Moreover, not all of Niger's armed forces sided with the coup, potentially opening the door to a "counter-coup" scenario involving local elements.
Diplomatic efforts hit a dead end
Efforts at mediation hit a dead end after coup leaders denied entry to an African diplomatic delegation on Tuesday, August 8th. This refusal diminished prospects for a peaceful resolution, threatening further destabilization in one of the world's poorest regions.
Neighboring Mali and Burkina Faso, also under military juntas, have appealed to the UN to prevent military action and cautioned that an attempt to reinstate Bazoum and restore his rule could have unpredictable consequences, including the collapse of ECOWAS.
What African diplomats couldn't achieve, U.S. Deputy Secretary of State Victoria Nuland did. She arrived in Niger before the crisis and urged junta leaders to find a peaceful resolution. Speculation suggests her sudden visit aimed to secure guarantees that the new government wouldn't shut down a U.S. military base. Previously, insurgents announced the closure of a French base.
Photo: U.S. Deputy Secretary of State Victoria Nuland attempted dialogue with the junta (Getty Images)
Following a two-hour meeting with the rebels, Nuland referred to them as unreceptive to the U.S. She promised American assistance if insurgents restored Bazoum, but they declined.
"I hope they leave the door open to diplomacy. We've made that offer. We'll see," she added.
State Department representative also didn't manage to negotiate with Omar Tchiani and the ousted president. Nuland further commented to AP on the junta's request for assistance from the Russian Wagner private military company.
"Based on our talks, it feels like the people who did this really understand the risks to their sovereignty when they invited the Wagner group in," Nuland emphasized.
Is chaos in Africa beneficial to Russia?
Images of coup supporters waving Russian flags in Niger's capital, Niamey, have sparked suspicions of Kremlin involvement, although concrete evidence remains scarce.
Russian support in Niger primarily circulates among pan-African or anti-globalist circles through social media. However, Russian flags were previously present during protests demanding the withdrawal of French troops. Additionally, political ties have been noted.
Abdouramane Oumarou, a representative of the Incin Africa party, frequently visits Moscow for meetings with prominent figures. According to The Guardian, the head of the MDP party was arrested on charges of conspiracy with a foreign state, reportedly Russia. Allegedly, he received a significant sum of money for establishing contacts in Moscow. Another Umoja party also holds a pro-Russian stance.
Photo: Coup supporters in Niger openly express sympathies toward Russia (Getty Images)
Overall, Niger's population views Russian presence in Mali favorably. The local junta paints a rosy picture of friendship with the Wagner PMC and denies allegations of mass atrocities.
According to UN statements, the killing of around 500 people in Mali's Muri in January 2022 had nothing to do with combatting Islamists. "White soldiers" were involved, referring to Wagner mercenaries.
The Ukrainian Center for National Resilience notes that Wagner's founder, Yevgeny Prigozhin, uses his camps in Belarus to transfer mercenaries to Niger. Recently, another plane carrying mercenaries departed for Niger.
Advisor to the Head of the Office of the President of Ukraine, Mykhailo Podoliak, is convinced that Russia is behind the coup. He believes the support of insurgents by Mali and Burkina Faso only confirms the existence of a global script in Moscow aimed at undermining global security.
"It has become evident that Russia is behind the so-called "military coup" in Niger. This is a typical Russian tactic: to divert attention, seize the opportunity, and escalate the conflict," he added.
As The New York Times reports, other potential beneficiaries of the conflict are Islamists. Following coups in Mali and Burkina Faso, attacks have escalated, raising concerns that a similar fate awaits Niger. According to diplomats, the recent coup could lead to Niger becoming a haven for Wagner mercenaries and jihadists in the heart of West Africa.
Why the world's attention is on Niger
Not only due to the growing Russian influence on the continent. If the coup succeeds, Niger will become the latest addition to a series of countries in the Sahel region, from the Atlantic to the Red Sea, ruled by military juntas.
Despite its history of coups, Niger has shown a slightly different trajectory. The election of Mohamed Bazoum in 2021 brought hope for a democratic path. As president, he advocated for accessible education for girls and sought to revitalize the economy. Forecasts indicated that after years of stagnation, the GDP was set to grow by 7% in 2023.
In Bazoum, Western nations saw a strong foothold in an unstable region. Currently, around 1,100 American and 1,500 French military personnel are stationed in Niger, along with several bases engaged in combating regional terrorism. Foreign aid totaling $2.2 billion constitutes 40% of Niger's budget.
Another factor is resources. Niger is the seventh-largest producer of uranium, a crucial link in the supply chain for nuclear power plants. The EU depends on local uranium for 20% of its needs, and France relies on it for 15%. With Europe facing an energy crisis due to Russia's invasion of Ukraine, these supplies have become even more valuable.
There's a threat that the junta, after closing the French base, might restrict uranium exports. Paris insists that reserves are sufficient and supplies are diversified. However, in the long term, as Europe moves away from Russian oil and gas, alternative sources will gain even more significance.