Attack on police in Kosovo - Prime Minister announces a special operation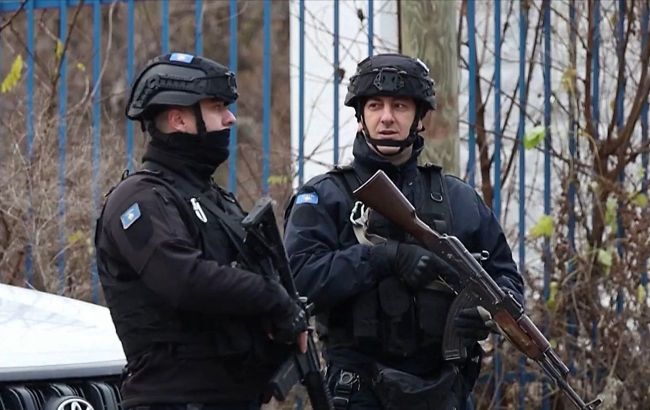 In Kosovo, an attack on police officers occurred (photo: screenshot from video)
Kosovo Prime Minister Albin Kurti announced a military operation against at least 30 armed individuals. This comes in response to an attack on law enforcement officers, according to Koha.
Displaying photographs during a press conference following a meeting of the Kosovo Security Council, Kurti stated that armed individuals with military equipment and masks were surrounding the monastery in Banja. He alleged that these individuals were behind the attack on the Kosovo police.
"There are at least 30 heavily armed individuals, professionals, military or police, who are surrounding our police forces, and whom I call on to surrender to our security authorities," he explained.
The Prime Minister noted that organized criminal groups are attacking Kosovo with political, financial, and material-technical support from Serbia.
Arrest of lawbreakers
After the death of a police officer and the injury of three of his colleagues in the village of Banja in Zvecan, a special operation was conducted to apprehend the attackers.
The police confirmed that three attackers were killed, one attacker was arrested, and four more suspects were detained. Radio communication devices, a significant amount of weapons, ammunition, and various equipment were found in their possession.
The situation in Kosovo
In the northern municipalities of the country, there are approximately 50,000 ethnic Serbs. In late spring, local Serbs ignored the local mayoral interim elections, resulting in ethnic Albanians winning the elections. This led to mass protests and clashes with the Kosovo police.
Following these events, the President of Serbia ordered the military to be prepared to intervene in favor of Kosovo. NATO deployed peacekeepers to the region, but nearly a hundred Alliance soldiers were injured. Later, NATO increased its troop presence in the region to 4,500 personnel.
Furthermore, Prime Minister of Kosovo Albin Kurti outlined conditions for holding new elections to reduce tensions in the region. In August, he also announced plans to reduce the number of police forces in the region by 25% to de-escalate the situation.