Russians advancing? Ukrainian military provides updates on eastern front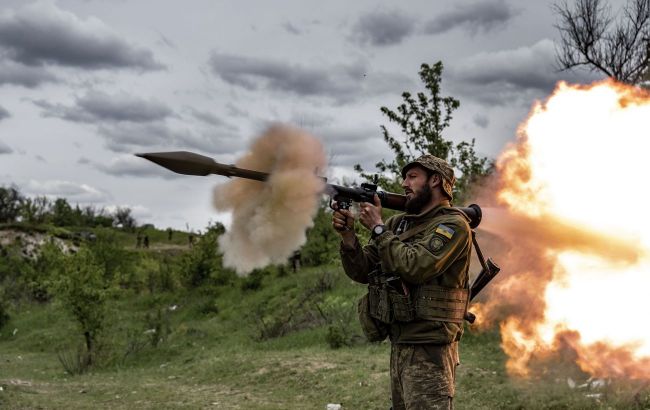 Ukrainian soldier (Getty Images)
Reports appeared on the Internet about alleged Russian military activities intensifying in the eastern direction, particularly in the Avdiivka area. However, the Ukrainian Armed Forces state that although the situation is complex, it is under control, and Ukrainian soldiers are holding their positions, according to a spokesperson of the Eastern Military Group Illia Yevlash and a spokesperson of the Defense Forces of the Tavria direction Oleksandr Shtupun.
Today, information emerged that Russians had supposedly initiated an offensive on several sections of the eastern front simultaneously. The head of the Avdiivka Military Administration, Vitalii Barabash, reported that Russians had been shelling Avdiivka heavily since early morning, including with tanks, aviation, and artillery.
Videos of Russian offensive actions in the Avdiivka direction were posted on the internet.
What the Ukrainian Armed Forces say
In a comment to RBC-Ukraine, a spokesperson for the Tavria direction, which includes Avdiivka, stated that Russians had indeed intensified their offensive actions in the Avdiivka sector. In particular, the enemy is attempting to advance in the areas of Avdiivka, Tonenke, Keramik, and Pervomaiske.
"But our soldiers, with the support of tanks and armored vehicles, have repelled all enemy attacks, and there have been no losses of our lines and positions. I also want to say that the enemy, suffering losses, continues to target the civilian population. Today morning, the shelling of Avdiivka and several settlements in the Pokrovsk district began. So, the enemy, while suffering losses, continues to terrorize the civilian population," Shtupun stated.
As for the situation in the responsibility zone of the Eastern Military Group, which includes the Bakhmut and Lyman-Kupiansk directions, it remains consistently tense but under control, as the spokesperson Yevlash told RBC-Ukraine.
"The enemy continues its offensive actions but faces resistance from the Defense Forces and is not a success. The enemy continues to deliver artillery strikes using barrel artillery and multiple rocket launchers, and they also use aviation. However, our defenders are holding back the enemy's advance and preventing them from breaking through our defense," he noted.
The situation in the Donetsk region
Russians fire at cities and villages in the Donetsk region daily. Frontline settlements in the region, including those in relative rear areas, are constantly under attack.
According to the General Staff, Ukrainian forces continue their offensive actions in the Bakhmut direction. The Defense Forces liberated Klishchiivka and Andriivka near Bakhmut.
Yesterday, two people aged 46 and 55 sustained shrapnel wounds as a result of shelling in the private sector of Avdiivka, Russians have been attempting to capture Avdiivka since 2014.