Airstrike on Kherson village of Antonivka: Ministry of Internal Affairs shows consequences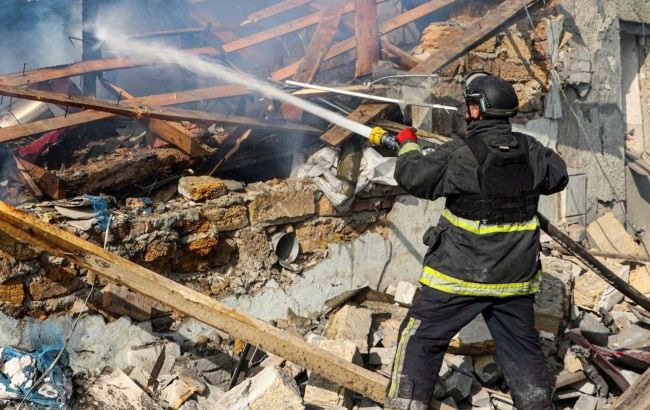 Ministry of Internal Affairs show photos and videos of the aftermath of the shelling of Antonivka (Photo: t.me/mvs_ukraine)
Russian occupiers today, on October 3, struck with an air bomb on the village of Antonivka in the Kherson region. Photos and videos of the aftermath have emerged, according to the Ministry of Internal Affairs of Ukraine and Roman Mrochko, the head of the Kherson city military administration.
As reported by the authorities, due to the enemy strike on a residential district in the suburbs of Kherson, seven buildings were destroyed, and people were trapped under the rubble.
"Rescuers pulled two people from the rubble, and one person was found lifeless. They have extinguished the fire that broke out in a residential building and an outbuilding after the impact," the Ministry of Internal Affairs specifies.
Photo: Debris clearing in Antonivka (t.me/mvs_ukraine)
According to Mrochko, there is information about one deceased man who was in his garage at the time of the attack and nine wounded individuals - three men, aged 63 and two at 49, and six women - the youngest being 28 years old, and the oldest 77.
Antonivka shelling
Today, October 3, it became known in the afternoon that the occupiers struck the village of Antonivka with an aerial bomb.
According to the latest information, eight people were known to have been injured in the attack.