Advisor to Head of Ukraine's Presidential Office comments on UN's proposal regarding Russia's return to 'grain deal'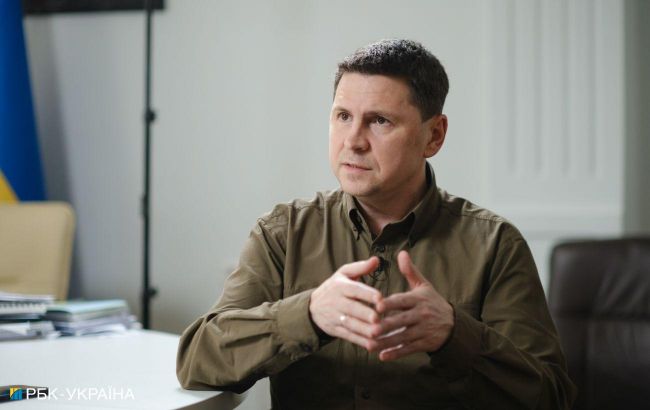 Advisor to the Head of the Office of the President of Ukraine, Mykhailo Podolyak (photo: Vitalii Nosach, RBC-Ukraine)
The UN proposed an agreement with Russia to return to the "grain deal." It was a draft, but it indicates that the UN really doesn't understand what this war is about, says the Advisor to the Head of the Office of the President of Ukraine, Mykhailo Podolyak, according to the telethon broadcast.
Today, on September 9, information emerged on social media that UN Secretary-General Antonio Guterres had proposed a four-point agreement to Russia to encourage its return to the "grain deal."
In response to the journalist's question about rumors on this topic, Podolyak confirmed that such an agreement does indeed exist.
"It's not a rumor. It was certainly a draft that indicates that the UN doesn't truly understand what kind of war this is and what the consequences of such a position might be. It essentially encourages Russia to continue the war, escalate it, and expand its scale. Undoubtedly, the UN will attempt to justify its position, but it doesn't appear to be sustainable for long," said the Advisor to the Office of the President.
Details of the agreement for Russia from the UN
Points reportedly taken from a secret letter by Guterres to Russian Foreign Minister Sergey Lavrov. The points of the agreement are the following:
Cancellation of EU sanctions (exclusion from the SWIFT system) against the Russian Agrarian Bank. This involves the use of a specially created company, RSHB Capital SA, by the Russian bank to circumvent sanctions.
Insurance for Russian ships against "attacks by Ukraine in the Azov and Black Seas."
UN assistance in unfreezing the assets of Russian fertilizer production companies in the EU.
"Ensuring access for Russian vessels transporting food products and fertilizers to EU ports through expedited port permits."
According to media reports, the Kremlin has not yet agreed to this proposal, as it allegedly considers the offers "too good to be true."
"Grain deal"
After Russia withdrew from the agreement, it repeatedly shelled Ukrainian ports and grain depots, leading to accusations from Ukraine and the West that Russia was using food as a weapon of war. World grain prices also rose again.
Meanwhile, Russian dictator Vladimir Putin used the Russia-Africa Summit held in St. Petersburg at the end of July to try to boost relations with African countries. He promised to deliver Russian grain for free to six summit participant countries in the coming months.
However, Zimbabwean President Emmerson Mnangagwa responded that Harare did not feel a shortage of food.