New blast on Crimea Bridge: How it will shape Russian logistics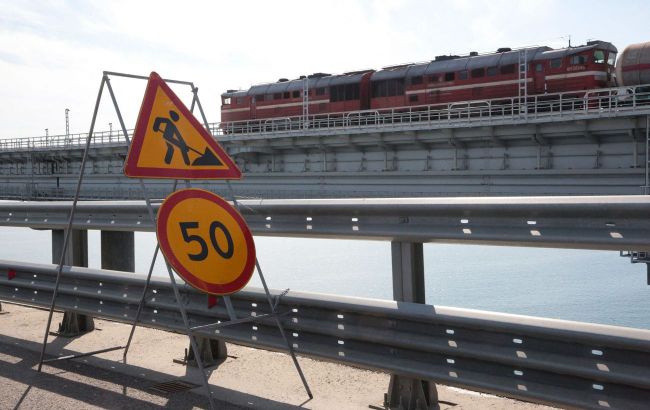 Damage to the Crimean Bridge is of great significance for Russia's logistics (Getty Images)
Damage to the Crimean Bridge due to nighttime explosions is of great significance for Russia's logistics in the overall war context. However, the damaged roadways are not as crucial in military terms for the enemy as the railways, which are still operating.
Military-political analyst of the Information Resistance project Oleksandr Kovalenko commented to RBC-Ukraine on how much Russian logistics will be affected after the overnight blust incident on the bridge.
As for whether it was a provocation by the Russians themselves or not, it seems to me that it is a "rebellion" (with irony) by the residents of the underwater city of "R'lyeh," adherents of Cthulhu Cult, who are unhappy with the Russian occupiers polluting the Black Sea.
Concerning what happened on the Crimean Bridge, I would say that the damage to the road surface is quite serious and requires repair work. Undoubtedly, this direction, this road, will be closed and non-operational for some time. How long it will take for them (Russians) to repair it is another question. But for a certain period, there will be no full automobile connection between mainland Russia and temporarily occupied Crimea.
However, the remaining logistical artery will work in reverse. Of course, the overall motor transport flow will decrease and become slower. But there is a nuance. We are specifically talking about motor transport, which Russian forces use less frequently to move soldiers, etc., to occupied Crimea. It is not predominant. Primarily, it is the railway. And the railway is currently also not fully operating on the Crimean Bridge, in reverse mode.
Let's put it this way: the damage is crucial for the overall logistics artery. But on the other hand, there is still the railway. And the issue of solving problems lies precisely with the railway for the residents of the underwater city of "R'lyeh" (Russians). Indeed, there is a decrease in military logistics of about 10-15%, but overall, the railway can somehow compensate for it.
As for the exact nature of the damage (to the bridge), the laws of physics are the same for everyone. Therefore, I do not exclude the possibility that it could have been an explosion that occurred beneath the roadway itself, rather than an external impact directly on it.
Oleksandr Kovalenko, for RBC-Ukraine