Avdiivka is Russia's secondary goal, main plan is being thwarted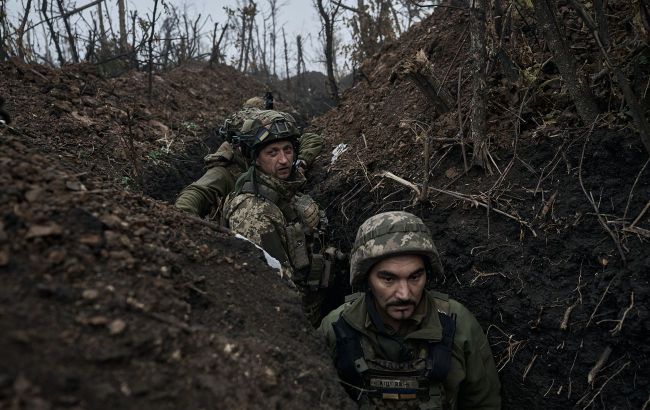 Ukrainian military (GettyImages)
Russian forces, despite their losses, continue to storm Avdiivka in the Donetsk region. However, their plans may face a setback as a possible Ukrainian offensive is being prepared in an entirely different direction, according to the head of the Center for Military-Political Studies, Oleksandr Musiienko.
The Russian intent in the assault on Avdiivka is not merely to capture the city; their plan is to divert Ukrainian forces from the southern fronts and concentrate them in the Avdiivka area. They are concerned about Ukrainian actions in the left bank of the Kherson region, which is why this offensive is underway to halt Ukrainian advances.
Capturing Avdiivka as both a city and a strategic position is a secondary objective. As for the ongoing combat operations, Ukrainian forces have played a crucial role in its defense, inflicting significant losses, particularly in terms of equipment, and repelling numerous attacks. It does not appear that the Ukrainian Armed Forces have engaged large reserves from the southern fronts, which is already undermining the enemy's plans.
The defense of Avdiivka demonstrates that the enemy cannot simultaneously launch offensives across the entire eastern front; they need to concentrate their efforts. They are unable to advance equally on the Lyman-Kupyansk section of the front, which is also a result of our successful defense. Whether they will manage to capture Avdiivka remains to be seen, but only the course of the battle will reveal that. I hope not, but various scenarios are possible, and a retreat might be necessary. However, in the grand scheme of the eastern front, this would not have a significant strategic impact.
Situation near Bakhmut
On the northern flank, the enemy occasionally launches counterattacks and achieves minor tactical successes. These are local battles that do not affect the overall situation. Even if we were to withdraw a kilometer or two, it would not change the situation from an operational-strategic perspective. It seems to me that all these attacks are related to the fact that Russian forces are trying to find what they perceive as weak points in our eastern defenses. They are unable to make significant headway in the Kupyansk direction and have limited success in the Lyman direction, so they are attempting on the north of Bakhmut, and so on.
Footholds on the left bank of the Kherson region
Recent videos on social media featuring Ukrainian marines in the village of Krynky may indicate that good news from the left bank of the Dnipro River is on the way. When we talk about the possibility of countering Russian flanking attacks in the east, the left bank of the Kherson region is well-suited for this purpose.
Our command understands this. It is not excluded that more extensive actions may be planned, related to crossing the Dnipro River to create a more powerful foothold for advancing into enemy territory. I maintain some hope regarding this direction, and there are grounds to believe that such an attack could occur.