Zelenskyy states 63 countries joined implementation of the peace formula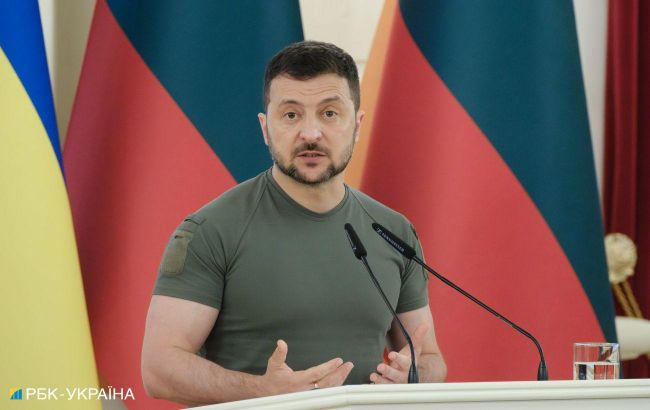 President of Ukraine Volodymyr Zelenskyy (photo: Vitalii Nosach, RBC-Ukraine)
President Volodymyr Zelenskyy announced during his joint press conference with Dutch Prime Minister Mark Rutte that 63 countries at the ambassadorial level have already joined the discussion on the implementation of the Ukrainian peace formula.
"We are adding diplomatic teams and new countries to our joint global efforts regarding the peace formula every week. Today, 63 states have already joined at the ambassadorial level," he stated.
Zelenskyy added that the Netherlands was among the first to join the peace formula.
The Ukrainian peace formula
During his speech at the G20 summit in November 2022, Ukrainian President Volodymyr Zelenskyy proposed, for the first time, a peace formula to halt the full-scale Russian invasion. It consists of 10 points:
radiation and nuclear safety (Russia's withdrawal from the Chornobyl Exclusion Zone, renunciation of nuclear threats);
food security (expanding the grain initiative);
energy security (protecting Ukraine's energy infrastructure, limiting prices for Russian energy resources);
release of all captives and deportees (release according to the "all for all" formula);
compliance with the UN Charter, restoration of territorial integrity, and the global order;
withdrawal of Russian troops and cessation of hostilities (restoring Ukraine's control over all sections of the state border with Russia);
justice (establishing a special tribunal for Russia's aggression against Ukraine);
ecocide, the urgent need to protect the environment;
prevention of escalation (signing a security guarantee treaty by allies - the Kyiv Security Compact);
formal recognition of the end of the war.
The formula has already been supported by the United Kingdom, the United States, Canada, Japan, Germany, France, Italy, Portugal, Poland, Finland, and the Baltic countries.