Zelenskyy signs bill on state budget change limitations needed for IMF aid program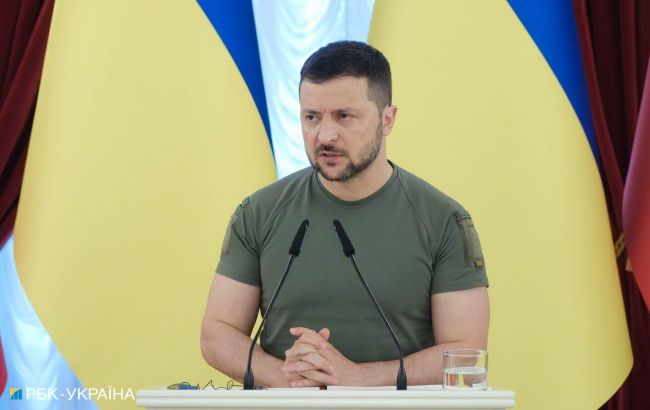 Ukrainian President Volodymyr Zelenskyy (Vitalii Nosach, RBC-Ukraine)
The matter concerns the draft Law "On amendments to the Budget Code of Ukraine to ensure budget policy predictability and strengthen debt sustainability."
On August 2, it was sent to the President, and today it was returned to the Parliament with Zelenskyy's signature.
Details about this bill
First Deputy Head of the Verkhovna Rada Committee on Tax and Customs Policy Yaroslav Zheleznyak says that this is a "+1 fulfilled IMF 'structural beacon' №10 and a basis for the fulfillment of another №12 'beacon' in Memorandum for greater budget predictability, medium-term budget planning, better debt management, and risk management of state guarantees."
According to the agreements, the bill
reinstates medium-term budget planning from the next year;
reinstates Article 52 of the Budget Code and grants the right to revise only defense expenditures;
allows reviewing in parliament only those budget changes that have a positive conclusion from the Ministry of Finance;
establishes limitations on state guarantees: state guarantees by the Cabinet's decision are not to exceed 3% of the total state budget revenues, the maximum amount of state guarantees based on international agreements is determined by the state budgetl aw;
reinstates the development of the State Debt Management Strategy for 2024-2026, which the Ministry of Finance must submit by October 25, 2023.
IMF program
On March 31, the International Monetary Fund (IMF) approved a four-year Extended Fund Facility (EFF) program for Ukraine worth $15.6 billion and allocated the first tranche of $2.7 billion. The program is part of the international support package for Ukraine with a total value of $115 billion.
As part of the program, the Ukrainian government committed to implementing 19 structural beacons for continued funding.
At the end of June, the IMF completed the first review of the EFF program for Ukraine. The allocation of the second tranche of around $890 million was approved.