Zelenskyy meets with Qatar's Prime Minister, discusses 'Peace Formula' and more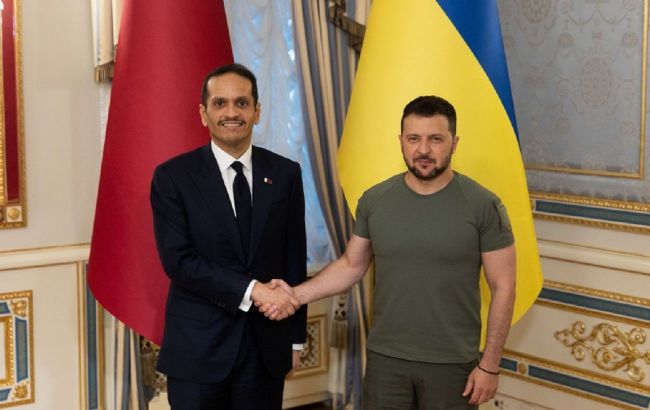 President of Ukraine Volodymyr Zelenskyy and the Prime Minister and Minister of Foreign Affairs of Qatar, Sheikh Mohammed bin Abdulrahman Al Thani (Photo: president.gov.ua )
On July 28, President of Ukraine Volodymyr Zelenskyy held a meeting with the Prime Minister and Minister of Foreign Affairs of Qatar, Sheikh Mohammed bin Abdulrahman Al Thani, according to the Office of the President of Ukraine.
President of Ukraine, Volodymyr Zelenskyy, emphasized the significance of the first visit of the Qatari official to Ukraine and expressed gratitude to Qatar for their support to the country and the humanitarian aid provided to the Ukrainian people.
"We appreciate this visit and consider it an important manifestation of Qatar's support and solidarity with our country. We are sincerely grateful for all the assistance received from Qatar," said Volodymyr Zelenskyy.
What did they talk about?
During their meeting, the Ukrainian President informed his counterpart about the daily rocket attacks carried out by Russia on Odesa, attempts to destroy the city's historical center, which is under UNESCO protection, and the civilian port infrastructure.
In this context, the parties discussed further steps to ensure global food security and the continued safe functioning of the "grain corridor."
Investments in Ukraine
"Particular attention was paid to the implementation of the Ukrainian Peace Formula and the Ukraine Recovery Plan," the statement reads.
Zelenskyy specifically emphasized the opportunities for Qatari investment funds and business circles to participate in the implementation of specific development and recovery programs in our country.
Photo: Meeting of Zelenskyy and the Prime Minister of Qatar (president.gov.ua)
From his side, Mohammed bin Abdulrahman Al Thani conveyed greetings from the Emir of Qatar and informed about Qatar's intention to allocate $100 million to support Ukraine's humanitarian needs.
Qatari Prime Minister's visit to Ukraine
Qatari Prime Minister, Mohammed bin Abdulrahman Al Thani, arrived in Ukraine for an official visit on Friday, July 28. He plans to hold a series of meetings, including meetings with the head of the Ukrainian government, Denis Shmyhal, and the Minister of Foreign Affairs, Dmytro Kuleba.
Qatar's position on the war
It is worth noting that Qatar's authorities maintain a seemingly neutral position regarding the war in Ukraine. However, Qatar has not openly condemned the Russian aggression against Ukrainians.
Moreover, Qatar expressed concerns about the "escalation of the war" due to an alleged attack on the Kremlin building in May. The country has seemingly ignored the Russian terror against the peaceful residents of Ukraine. In response, the Ukrainian Ministry of Foreign Affairs sharply reminded Qatar that Russia is the aggressor.