White House explaines the transfer of nuclear submarine to the Middle East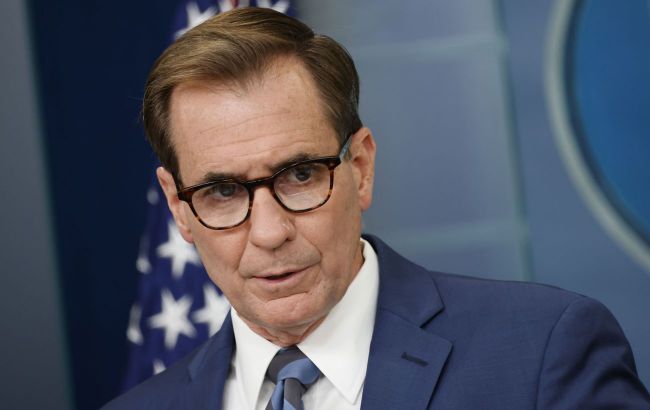 White House National Security Council Coordinator John Kirby (photo: Getty Images)
The relocation of the Ohio-class nuclear submarine to the Middle East is deemed a necessity within the context of deterring parties from escalating the conflict, states John Kirby, Coordinator of the White House National Security Council.
"I will give you a broad overview that we will continue to adjust the positioning of our forces in the region," said Kirby.
He emphasized that such a move is necessary to safeguard U.S. troops and assets in the region and to convey a powerful deterrence message to any party inclined towards escalating the conflict.
Submarines of the Ohio class
The Ohio-class submarines are a series of third-generation American strategic nuclear submarines. They form the backbone of the United States' strategic offensive nuclear forces, consistently conducting combat patrols at sea, accounting for 60% of their time underwater.
Since 2002, they have been the sole type of ballistic missile submarines in the U.S. Navy's arsenal. Currently, 14 out of the 18 submarines in the series are armed with 24 Trident intercontinental ballistic missiles each.
US support for Israel
Following the Hamas attack on Israel on October 7, the United States announced the deployment of an aircraft carrier strike group to the region. Subsequently, the aircraft carrier USS Dwight D. Eisenhower arrived there. Additionally, the United States redeployed over 20 aircraft to the Mediterranean region, including F-35 and F-15 fighters.
According to the Secretary of Defense, the dispatch of the USS Dwight D. Eisenhower to the Eastern Mediterranean is part of U.S. efforts to deter hostile actions against Israel or any efforts aimed at escalating the conflict following the Hamas attack on Israel.
Furthermore, the U.S. also stated that they have sent aircraft to Israel with missile defense systems and ammunition.