What the submerged Kakhovka HPP looks like now: Shocking video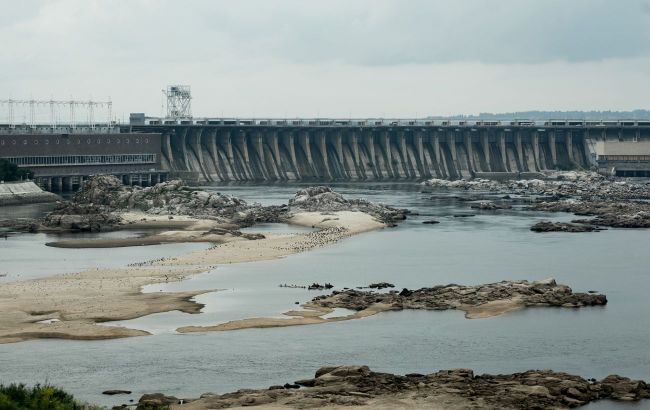 What Kakhovka HPP looks like now (Getty Images)
The Kakhovka Hydroelectric Power Plant (KHPP) was destroyed by Russian occupiers on June 6, 2023. The actions of the Russian military have been labeled as the most extensive environmental crime. As a result of the dam's explosion, dozens of kilometers around were flooded. Animals, people died, and buildings were destroyed.
The current state of the KHPP was shown by Colonel Vladyslav Nazarov, a representative of the Operational Command South.
Destruction of KHPP
Due to the terrorist attack carried out by Russians at the KHPP, 11 out of 28 spillway bays in the upper part of the dam were destroyed. Additionally, 150 tons of oil went into the water from the plant's machine room.
In a recent video, you can witness the destruction and the aftermath of the explosion at the KHPP.
"The destroyed spillway dam is visible, the building of the machine room has split into two parts, and one of these parts is partially submerged in water," Nazarov says.
He also notes that the navigation lock and the earthen dam between the KHPP building and the navigation lock on the right bank were completely destroyed.
Damage to the ecology
As the Ukrainian Nature Conservation Group reports, the terrorist act has caused immense damage to wild nature.
The reservoir was the second largest in Ukraine in terms of area, covering over 2000 square kilometers and stretching for 240 km. It was situated across three regions - Zaporizhzhia, Dnipropetrovsk, and Kherson.
How KHPP looks now (photo: facebook.com/GazetaSvit)
The negative consequences extend to a much larger area, as according to scientists, the affected wildlife encompasses an area of no less than 5000 square kilometers, including the flooding and drying-up zones.
Damage has been inflicted upon fish, birds, aquatic fauna, terrestrial fauna, and plants. Certain species of microorganisms, animals, and plants will disappear from our planet.