Wagner Group in Belarus: part of mercenaries positioned near Lithuanian border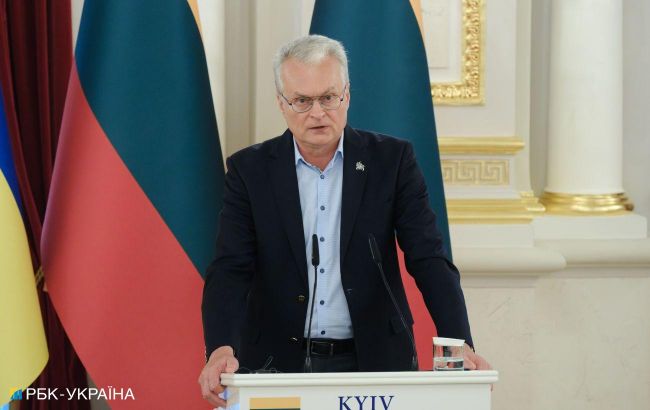 Lithuanian President Gitanas Nausėda (Photo: Vitalii Nosach, RBC-Ukraine)
The location of Wagner Group mercenaries in Belarus is a crucial safety risk factor. A portion of them has positioned themselves in proximity to the Lithuanian border, specifically in the city of Grodno.
According to LRT, Lithuanian President Gitanas Nausėda stated this during a meeting with Polish Prime Minister Mateusz Morawiecki.
Nausėda emphasized that the number of mercenaries in Belarus has already exceeded or is nearing 4,000. Some of them have taken positions in the Grodno region, raising concerns of potential provocations at Polish or Lithuanian borders. Lithuania, in response, has taken measures to reinforce border security and has prepared and updated plans to fortify the border, including military reinforcement.
"While we may have different interpretations of the intentions of Wagner Group fighters in Belarus, one thing is clear: it would be too tempting for both Putin and Lukashenko not to capitalize on the presence of Wagner Group fighters in their immediate vicinity for potential provocations against NATO countries," Nausėda stated.
Speaking to Lithuanian media, President Nausėda remarked that the number of mercenaries in Belarus is likely to increase to 10,000. He also cautioned against underestimating the Wagner Group fighters, as they constitute a "serious force, not inexperienced individuals who are unfamiliar with handling weapons."
Nausėda highlighted that Lithuania must have clear action protocols in case the situation around the "Wagner operatives" escalates, including the closure of the border with Belarus. However, such actions should be coordinated with Poland and Latvia. Notably, provocations from the mercenaries' side will be perceived as actions stemming from Russia.
Wagner Group in Belarus
Following a failed coup attempt by Wagner Group leader Yevgeny Prigozhin, a faction of his fighters has arrived in Belarus. They have set up camp in tented accommodations. Ukrainian border officials stress that while the fighters in Belarus currently pose no threat to Ukraine, the possibility of provocations cannot be ruled out.