Vitaliy Klitschko and U.S. Ambassador discuss security cooperation in Kyiv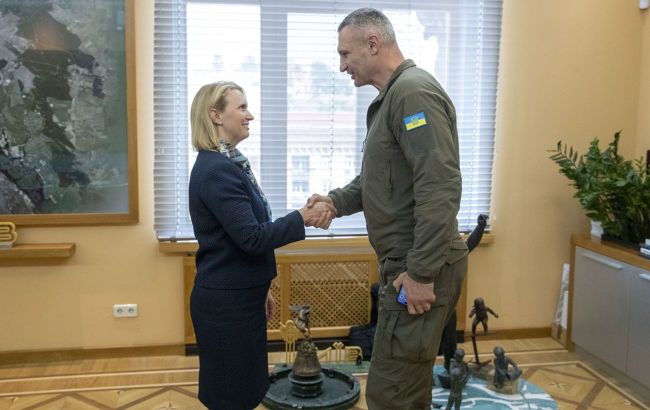 Mayor of Kyiv Vitaliy Klitschko and U.S. Ambassador Bridget Brink (Photo: press service)
The Mayor of Kyiv, Vitaliy Klitschko, met with the U.S. Ambassador to Ukraine to discuss security issues, including energy-related matters, as well as problems related to local self-government, according to Klitschko's Telegram channel.
"I met with the Extraordinary and Plenipotentiary Ambassador of the United States to Ukraine, Bridget Brink, and representatives of the embassy at the Kyiv City Hall. We discussed the situation in Kyiv, both economic and social aspects, as well as the preparations for the heating season in the capital. We talked about further cooperation in the areas of security, energy infrastructure renewal, and the challenges faced by local self-governance today," reported Klitschko.
The Mayor of Kyiv also expressed gratitude to the American diplomats for the comprehensive support and assistance that the United States provides to Ukraine and its capital.
Earlier, it was reported that Vitaliy Klitschko had a meeting with the Secretary-General of the intergovernmental coalition "Community of Democracies," Thomas Garrett. During the meeting, they discussed issues related to aid for Ukraine and the excessive centralization of power in Ukraine, which poses a threat to the development of democracy and local self-governance.
It was also reported that during today's session, Vitaliy Klitschko initiated an increase in the support for the Armed Forces of Ukraine from the city budget to 5 billion hryvnias. These funds will be directed, among other things, to provide the defenders with drones and anti-drone systems.