US ready to take risks: Biden and Zelenskyy discuss ATACMS supplies to Ukraine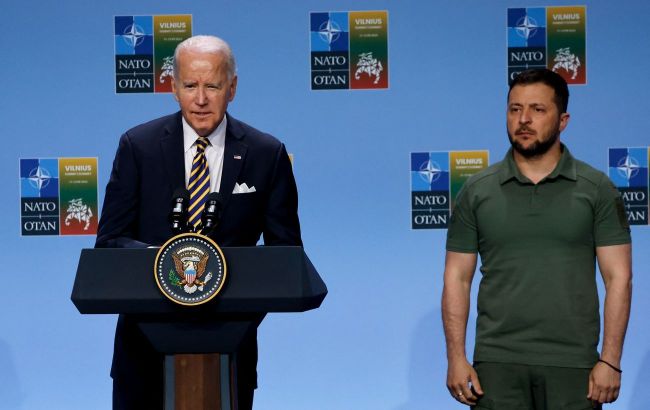 President of the United States Joe Biden and President of Ukraine Volodymyr Zelenskyy (Getty Images)
President of the United States Joe Biden and President of Ukraine Volodymyr Zelenskyy have engaged in discussions regarding the supply of ATACMS missiles, as National Security Advisor to the US President Jake Sullivan said during the Aspen Security Forum.
"As for ATACMS, France and Britain should provide the possibility of long-range strikes. This will provide additional capabilities during Ukraine's counteroffensive," he said.
He added that the US provided one of the largest military aid to Ukraine.
Sullivan emphasized that the decision on supplying ATACMS missiles to Ukraine will ultimately make President Biden. "The President will decide whether or not we eventually provide ATACMS. He discussed this with President Zelenskyy, and they are continuing the talks. I don't want to disappoint you, but I have no announcements to make today," Sullivan said.
Furthermore, he affirmed that the United States is ready to take risks in supplying weaponry to Ukraine. However, each announcement of a new aid package to Ukraine is carefully considered in light of Russia's reaction.
Sullivan also disclosed that the US is conducting consultations with Ukraine on the appropriate timing for deploying major forces during counteroffensives. He clarified that Washington's intention is to assist Ukraine, not to pursue a change of power in Russia.
"Look, we have to be a learning organism. We have to observe. We do something, and Russia responds or does not respond. This is smart statecraft, so of course, during the last 16 months, we have not just remained static, we have been dynamic," he added
About ATACMS missiles
ATACMS refers to solid-fueled, surface-to-surface ballistic missiles produced by the American company Lockheed Martin, with a range of up to 300 km. The missile systems M270 MLRS and M142 HIMARS serve as the launch platforms for ATACMS missiles.
Ukrainian officials have been appealing to the United States for the transfer of long-range ATACMS missiles since last year. These missiles would enable Ukrainian forces to strike enemy rear areas effectively. Ukraine already possesses the M142 HIMARS rocket artillery systems necessary for using such weaponry.
The US had previously declined Ukraine's requests, but Biden has recently confirmed that the country has initiated the review process for supplying the missiles to Ukrainian forces.