Ukraine takes preemptive measures in case of Russian attack at Zaporizhzhia NPP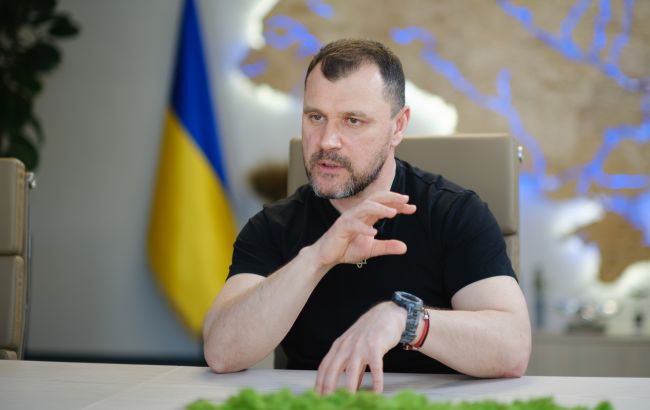 Photo: Minister of Internal Affairs Ihor Klymenko (RBC Ukraine)
The law enforcement and rescue teams are getting ready to respond to the consequences if Russian aggressors carry out a terrorist attack at the occupied the Zaporizhia nuclear power plant. The headquarters have already been established in Ukraine for this purpose, said Minister of Internal Affairs Ihor Klymenko during a national telethon.
"Primarily, people need to stay calm. This is based on the readiness of all our services including the Ministry of Energy, the Ministry of Internal Affairs, the Ministry of Health, and local authorities, to respond to any emergencies and situations, including those related to a possible radiation leak from the Zaporizhzhia NPP," he said.
The Ministry of Internal Affairs has set up relevant headquarters today. Energy experts, emergency services personnel, police, and medical staff will be present. Klymenko emphasized the importance of conveying behavior guidelines to citizens in an emergency.
The Minister stressed that the first day would be the most critical because of a terrorist attack when the radiation levels would be the highest.
"As for ZNPP, the radioactive background that may be in the air after any incidents will persist for approximately 24 hours. That means we will reduce the radioactive background by about 80% within a day," he emphasized.
During this time, if no evacuation measures are implemented, every citizen should seek shelter indoors, seal ventilation, and turn off air conditioners and heaters. Sealing all openings in buildings using a damp cloth or tape is also necessary.
"In upcoming days, we will conduct relevant training on road closures and establishing sanitary checkpoints, where we will monitor radiation. All radiation measurement equipment we have is calibrated and ready for operation. However, we want to regroup all services again to respond clearly to any challenges," the Minister stated.
Klymenko noted that all citizens wishing to leave the affected area would be provided with appropriate transportation.
"We constantly carry out such measures near nuclear power plants. We don't always publicize them. But at this moment, we will work quite openly. We will work in close cooperation with the population and inform them about all our steps that we will take in the corresponding territory. This territory means a 50-kilometer radius around the Zaporizhia nuclear power plant. If we consider both the right and left banks, it involves approximately half a million people," the Minister stated.
How to protect yourself in case of a terrorist attack at ZNPP
Klymenko explained that radiation is essentially dust. To protect yourself from it outdoors, use a regular respirator or mask similar to those used during the COVID-19 pandemic.
"That's all you need to know. And, of course, stay informed through the media, where we will constantly update the public about the situation and the safety measures we will be taking together," the Minister added.
In case of a disaster at the ZNPP, it is necessary to seek shelter indoors, and the possibility of moving to a designated shelter will be shared by authorities separately.
"The first step is to stay indoors for up to one day until local authorities and civil defense provide instructions regarding relocation to specific areas or alternative territories. We are primarily discussing the potential release of thermal emissions, which will decline significantly within a day," said Klymenko.
Situation at Zaporizhzhia nuclear power plant
Ukrainian President Volodymyr Zelenskyy announced that occupiers are planning a terrorist attack at the Zaporizhzhia nuclear power plant involving the release of radiation. He emphasized that the Russians had already made preparations.
Earlier, the Сhief of the Defense Intelligence of Ukraine, Kyrylo Budanov, reported that the occupiers had additionally mined the Zaporizhzhia nuclear power plant, specifically the cooling pond.