Ukraine's MoD chief Reznikov sees no corruption in winter jacket supply, urges to end the 'friendly fire'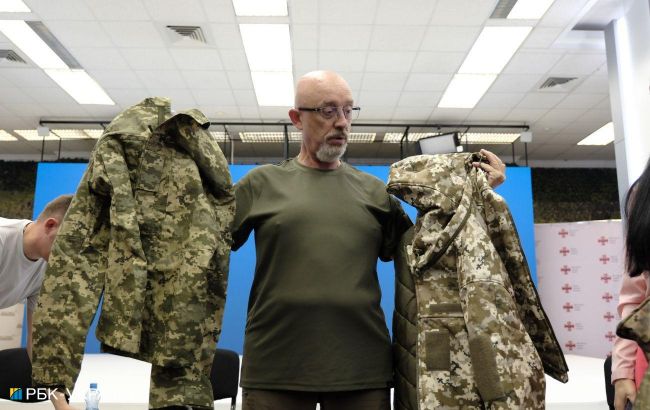 Minister of Defense of Ukraine Oleksii Reznikov (Vitalii Nosach, RBC-Ukraine)
Minister of Defense Oleksii Reznikov is confident that there were no violations during the procurement of winter jackets for the Armed Forces of Ukraine. And their features and cost are quite acceptable, there were no complaints within the Ukrainian military, as the minister said at a press conference.
"Being absolutely certain that we have bought winter jackets and not summer ones, I proposed a very simple thing, having used all other measures. If you are convinced that these are summer jackets, and you desire my dismissal, you have a very simple step to take - accept my bet," Reznikov said, commenting on his proposal to make a bet.
According to the minister, 135,000 jackets under the contract with a Turkish company were used by the Ukrainian military, while the remaining 45,000 are in warehouses. Reznikov assured that no manufacturer had ever offered to supply winter jackets at a price lower than $80, so appeals about prices on online platforms are inappropriate.
The minister also mentioned that no separate contract offers were sent to suppliers; they themselves contacted the ministry via email. He stated that a total of 30 companies were involved in supplying winter clothing, including 9 foreign ones.
Reznikov also responded to questions about why one of the winter uniforms suppliers was a company whose co-owner is the nephew of a Servant of the People (Zelenskyy's party) MP, Gennadiy Kasay.
"From them, as well as from 8 other foreign suppliers, an offer was received via email, and then the department (Ministry of Defense procurement department) processed and negotiated with them," Reznikov said, adding that during "that challenging time", the Ministry of Defense did not have the opportunity to conduct compliance checks or determine the beneficiaries of supplier companies.
"I don't care what the beneficiary's last name is if they actually deliver," Reznikov said.
He notes that he is not familiar with Kasay's nephew, and as for the MP himself, he knows him but never had any discussions or negotiations about any supplies with him.
"The question for the Ministry of Defense is: 'Did we import summer jackets instead of winter ones?' No, it's not true; we imported winter jackets at a normal market price, as it was then and is now," Reznikov said.
He added that those to whom he proposed a bet are not his "enemies" because "we are all fighting against the Russian Federation together."
"I suggest we stop the friendly fire," Reznikov concluded.
Background
Rumors of Reznikov's resignation have been circulating for a while, particularly after a series of scandals involving the Ministry of Defense's procurement of food and ammunition at boosted prices.
Last week, Reznikov offered to bet MP and a journalist over a scandal involving the procurement of jackets. He stated that he was ready to resign if it turned out that the ministry had procured 180,000 summer jackets instead of winter ones. Otherwise, he proposes that MP Anastasiia Radina resign her mandate, and journalist Mykhailo Tkach should leave journalism for 3 years.
MP Oleksii Honcharenko recently stated that Reznikov could be offered a resignation and appointed as an ambassador to the UK. According to him, the position of Minister of Defense could be taken by the head of Defense Intelligence, Kyrylo Budanov.
Journalists have also raised questions about Reznikov's resignation to the president. President Zelenskyy said that he commented on resignations after the relevant decrees were issued.